In the WoWt WotLK Classic, the Retribution Paladin stands tall as a formidable force. Clad in heavy armor, wielding mighty two-handed weapons, and fueled by righteous vengeance, the Retribution Paladin is a force to be reckoned with. This WoW WotLK Retribution Paladin guide will delve deep into the intricacies of the Retribution specialization, providing invaluable insights into the selection of talents for PvE content, and unraveling the reasons why Ret Pala are truly a force to be reckoned with in the WotLK Classic era.
Understanding the Retribution Paladin
Before we dive into the talent selection, let's take a moment to appreciate what makes the Ret so strong in WoW WotLK Classic.
Versatile Gameplay: Paladins are known for their versatility. They are equally adept at dealing damage, supporting their allies with auras and blessings, and even providing off-tank capabilities when the situation demands it.
Burst Damage: One of the standout features of a Retribution Paladin is their ability to unleash devastating burst damage. With a combination of abilities like Crusader Strike, Divine Storm, and Templar's Verdict, they can annihilate foes swiftly.
Survivability: Wearing plate armor and having access to a variety of defensive cooldowns and self-healing abilities, Paladins are not easy to take down. Their survivability in both PvE and PvP scenarios is commendable.
Supportive Role: Beyond take damage, Retribution can also enhance the performance of their party or raid with auras and blessings, making them valuable assets in group content.
Now, let's address the burning question on every aspiring Ret Paladin's mind: "What Talents to Choose for Ret Paladin in WoW WotLK Classic?"
Talent Tree Breakdown for WoW WotLK Retribution Paladin
Tier 1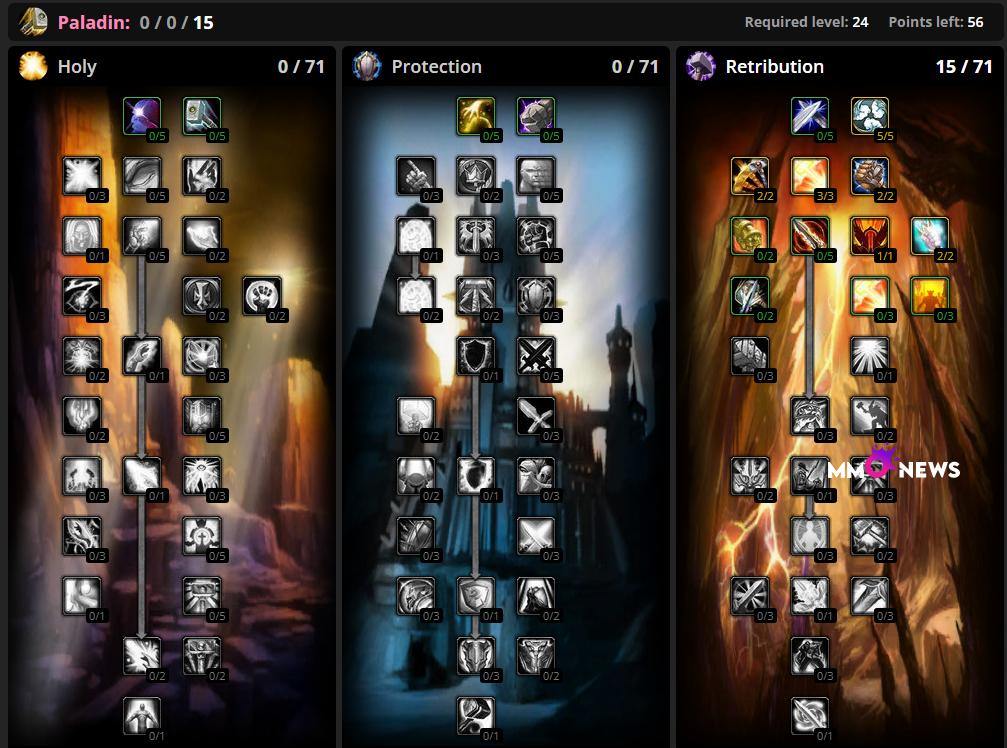 Improved Blessing of Might (2/2): This talent enhances the Blessing of Might, providing a substantial attack power boost to the entire raid or party. A must-have talent for every Ret Paladin.
Heart of the Crusader (3/3): Heart of the Crusader Increases the probability of a critical hit when using spells and abilities against the target by 3%, making it an excellent choice for maximizing your prejudice output.
Improved Judgements (2/2): Improved Judgements reduces the cooldown of your Judgement spells, ensuring you can apply Judgements more frequently, thereby prejudice enhancement and utility.
Tier 2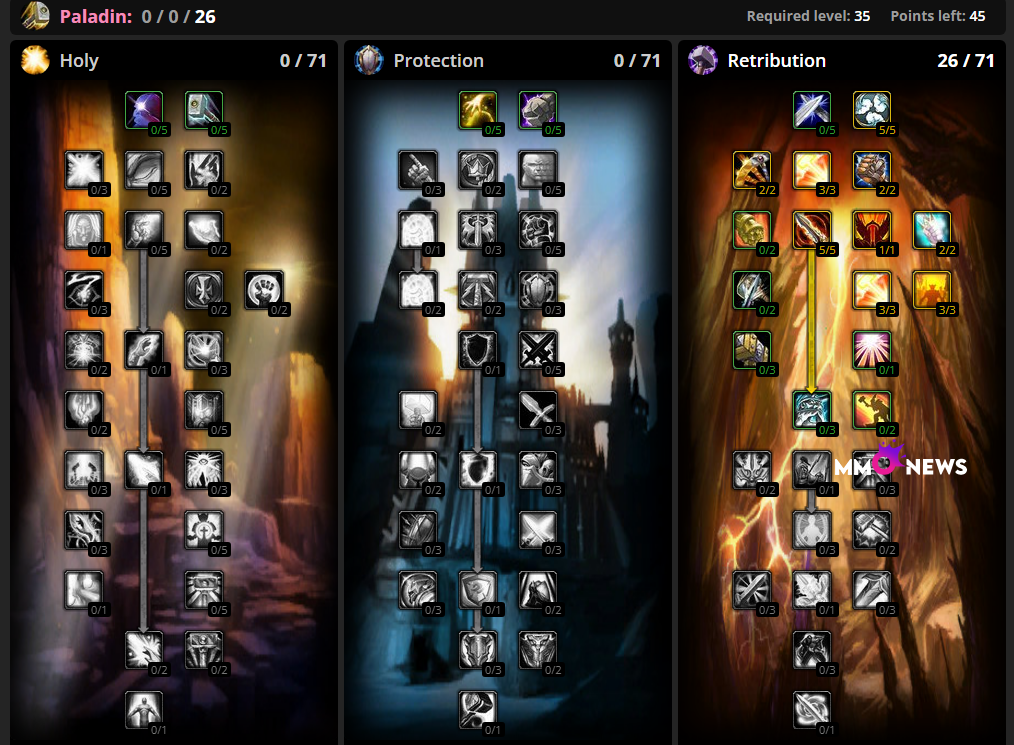 Crusade (3/3): Crusade is a cornerstone talent that significantly boosts hero damage against undead and demon enemies, which are abundant in WotLK Classic content.
Two-Handed Weapon Specialization (3/3): As a Ret Paladin, you wield mighty two-handed weapons. The talent increases your prejudice at these weapons, amplifying your overall damage output.
Sanctity of Battle (3/3): Sanctity of Battle reduces the cooldown of your Holy Shock and Exorcism spells, two crucial abilities in your rotation. Lower cooldowns mean more damage and healing potential.
Tier 3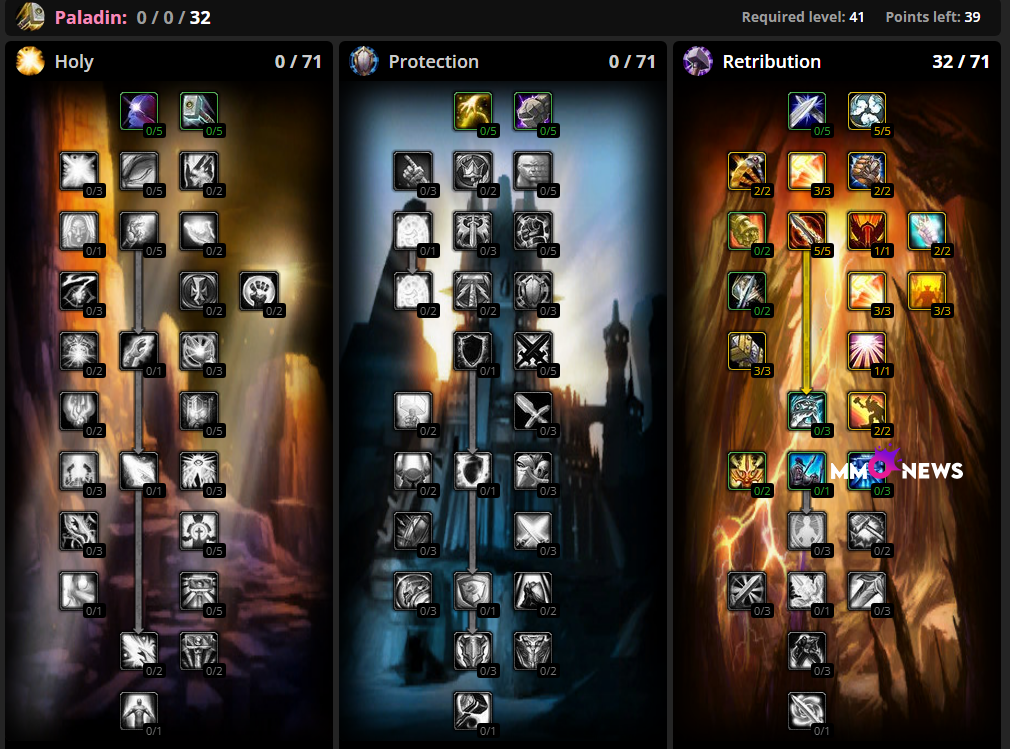 Vengeance (5/5): Vengeance enhances increases the chance of a critical hit on your even harder. This talent is a must for maximizing your burst damage.
Conviction (5/5): Conviction boosts your overall damage and your chances to critically hit. It's a solid choice to improve your sustained prejudice.
Seal of Command (1/1): Seal of Command is a powerful ability that grants a chance to deal additional Holy damage with your melee attacks. It's a game-changer in your rotation and should be maxed out.
Tier 4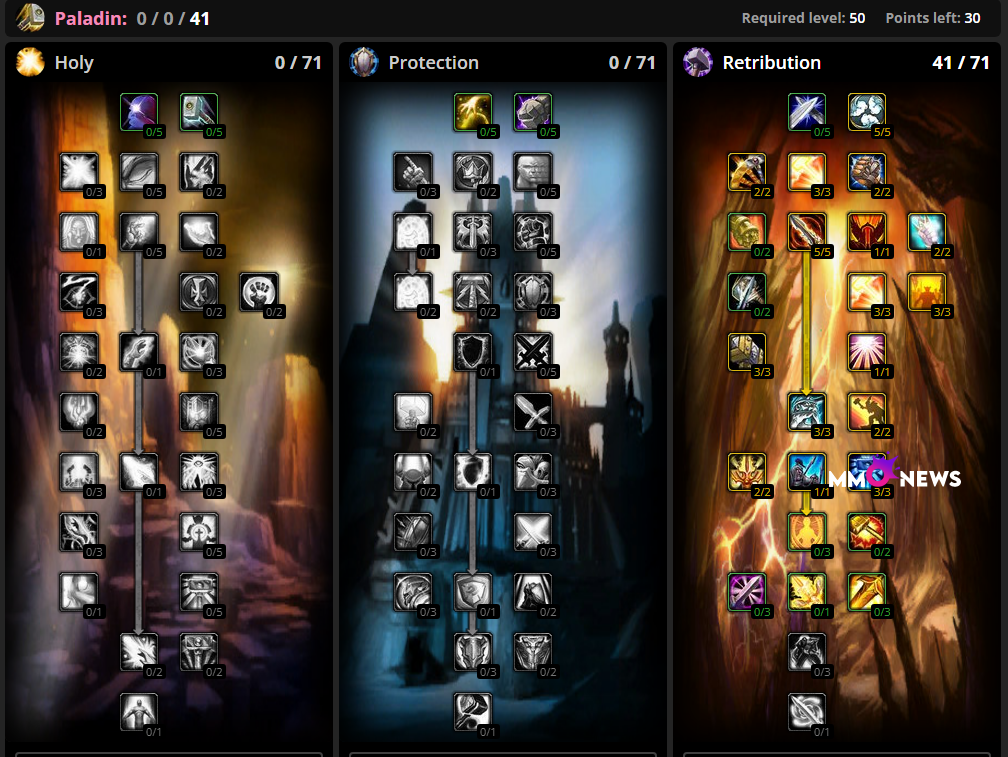 Divine Storm (1/1): Divine Storm is a devastating area-of-effect (AoE) ability that deals Holy damage to all nearby enemies. It's a vital part of your AoE damage toolkit.
Pursuit of Justice (2/2): This talent increases your movement speed and reduces the duration of movement-impairing effects, enhancing your mobility in encounters where positioning matters.
The Art of War (2/2): The Art of War empowers your Exorcism and makes it instant-cast when it procs, adding to your burst damage potential.
Tier 5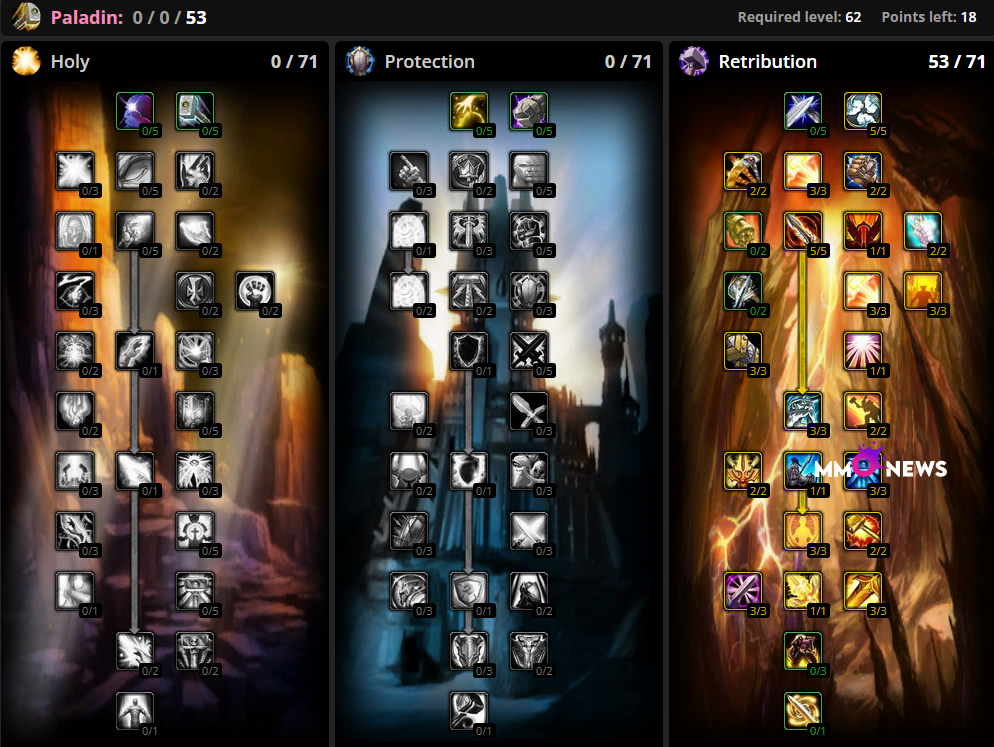 Divine Purpose (1/1): Divine Purpose is an incredible talent that can reset the cooldown of your Holy Power-spending abilities, allowing for back-to-back devastating attacks.
Fanaticism (3/3): Fanaticism decreases the mana cost of your Judgement spells and increases the damage dealt by your Seals and Judgements. It's a substantial boost to your sustained damage.
Sanctified Wrath (1/1): Sanctified Wrath extends the duration of your Avenging Wrath, making it even more potent. This is your "super mode" for dealing damage and should not be overlooked.
Tier 6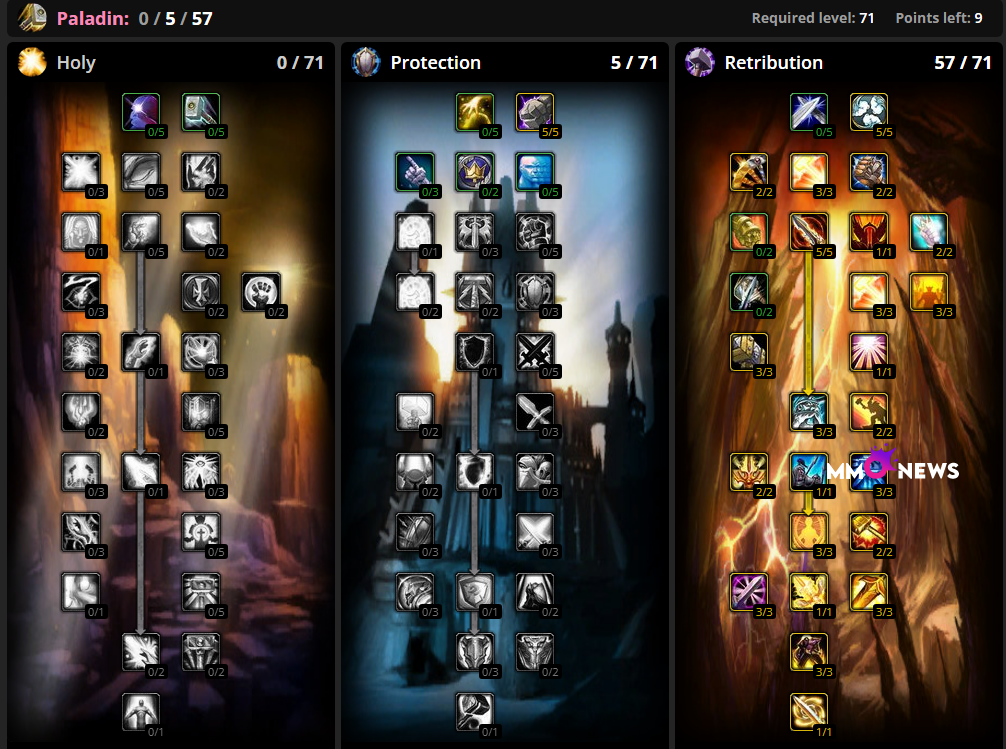 Divine Retribution (2/2): Up critical chance of your Divine Storm and Crusader Strike, making your most important abilities hit harder and more frequently.
Judgements of the Wise (3/3): Judgements of the Wise grants you mana replenishment when using Judgement spells, helping you sustain your damage output without running out of mana.
Righteous Vengeance (2/2): Righteous Vengeance boosts your damage against enemies with low health, helping you finish off foes efficiently.
Tier 7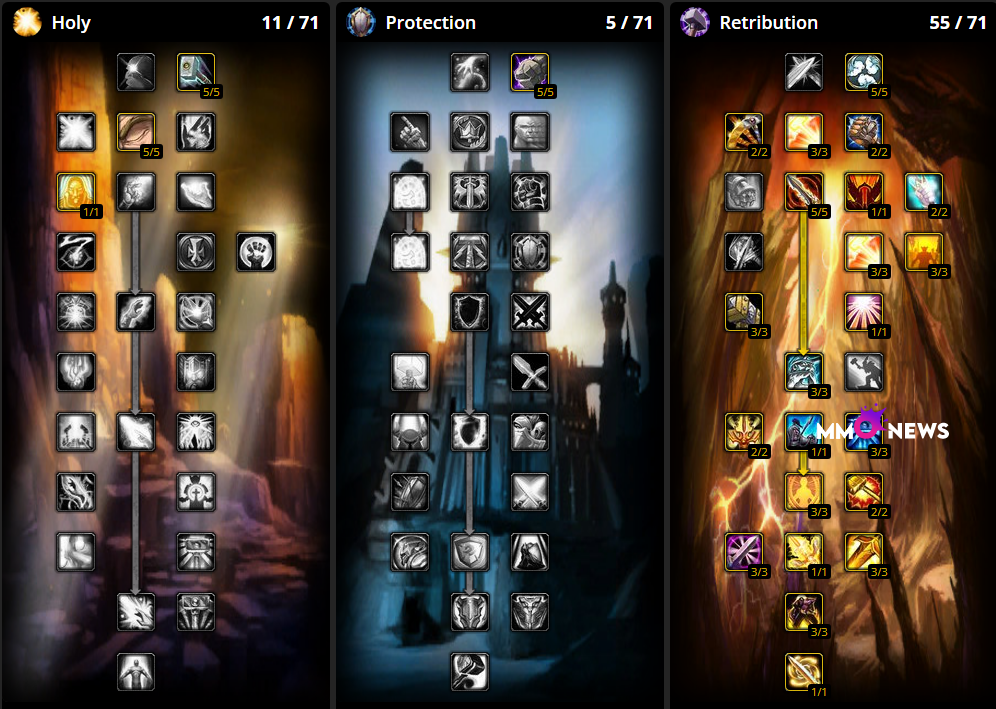 Vindication (2/2): Vindication decreases the attack power of your target when hit by your Judgement spells, reducing the enemy's prejudice output.
Divine Storm (2/2): This talent enhances Divine Storm by allowing it to also hit additional targets, making it a formidable AoE damage tool.
Inquiry of Faith (3/3): Up critical chance with your Judgement spells, further amplifying your prejudice.
WoW WotLK Retribution Paladin basic rotation in PvE
Divine Storm: You should open up on the enemy with this ability, but only if your hero has 2 pieces of Tier 10 armor. Otherwise, Judgment comes first.
 Judgment: Use Judgment to trigger the Seal of Command's bonus damage. Judgment also provides a useful debuff on the target, increasing the Holy damage taken.
Crusader Strike: Follow up with Crusader Strike, which is your primary damaging ability. It deals a significant amount of Holy damage and generates Holy Power.
Exorcism: If you have the "Pursuit of Justice" talent, use Exorcism when it's available. Exorcism deals substantial damage to undead and demons and can be used as a filler ability when other skills are on cooldown.
Consecration: If you find yourself facing multiple enemies or need to maintain some AoE (Area of Effect) damage, use Consecration. This ability deals consistent Holy damage to enemies within its area of effect.
Resources Management for WoW WotLK Retribution Paladin
Defensive Abilities: Don't forget to use your defensive abilities when needed. Lay on Hands, Divine Shield can save you or your group members in challenging situations.
Mana Management: Keep an eye on your mana pool. Retribution Paladins can struggle with mana management in longer encounters, so use Seal and Judgment wisely to conserve mana.
Cooldowns: Utilize your major cooldowns like Avenging Wrath for a substantial DPS boost. Coordinate with your group to maximize their effectiveness during boss encounters or challenging phases.
Remember that adapting your rotation to specific encounters and the needs of your group is essential in PvE content. Practice your rotation to optimize your damage output, and always be prepared to support your group with utility abilities and off-heals when necessary. Communication and coordination with your team are key to success as a Retribution Paladin in WotLK Classic PvE.
Little Lifehack. Stock up on any one-handed weapon with an attack speed of 1.4-1.5. At the beginning of the fight use Seal of Vengence with your one-handed weapon, quickly gain 5 stacks on the enemy and switch to your main weapon. This way you will get maximum damage burst with wings.
Conclusion of WoW WotLK Retribution Paladin
In the world of WotLK Classic, the Ret Paladin stands as a shining example of both versatility and raw damage output. By carefully selecting the talents outlined in this guide and mastering your rotation, you'll be well on your way to becoming a powerhouse on the battlefield.
Remember, while these talent choices provide a solid foundation for a Retribution Paladin in PvE content, don't forget to adapt your talents to suit specific encounters and group compositions. Flexibility is key to excelling in the ever-evolving challenges of WoW WotLK Classic.
So, why is the Ret Paladin strong in WoW WotLK Classic? With their versatile gameplay, incredible burst damage, survivability, and supportive capabilities, they are a force to be reckoned with. Whether you're delving into dungeons, tackling raid bosses, or clashing in PvP battlegrounds, the Retribution Paladin is a class that commands respect and admiration.
There, you'll find additional tips, gear recommendations, and gameplay insights to further enhance your journey as a Ret Paladin in the world of Azeroth.