Destiny 2's Season of the Witch is in full swing, and with it comes a thrilling culmination of the "The Bladed Path" questline. As the seventh week unfolds, Guardians are presented with a challenging yet rewarding mission that holds significant importance in the ongoing battle against Xivu Arath and her malevolent forces. This mission, known as "Mission: Sunder," stands as a pivotal moment in the Destiny 2 narrative, requiring Guardians to muster their skills, assemble formidable loadouts, and face off against the formidable Leviathan-Eater, Bane of the Ammonites. But why is completing this mission so essential, and what makes it a must-experience part of Destiny 2? In this guide, we'll delve into the reasons behind the importance of Mission Sunder in Destiny 2 and provide comprehensive insights on how to successfully conquer it.
Why Mission Sunder Destiny 2 Matters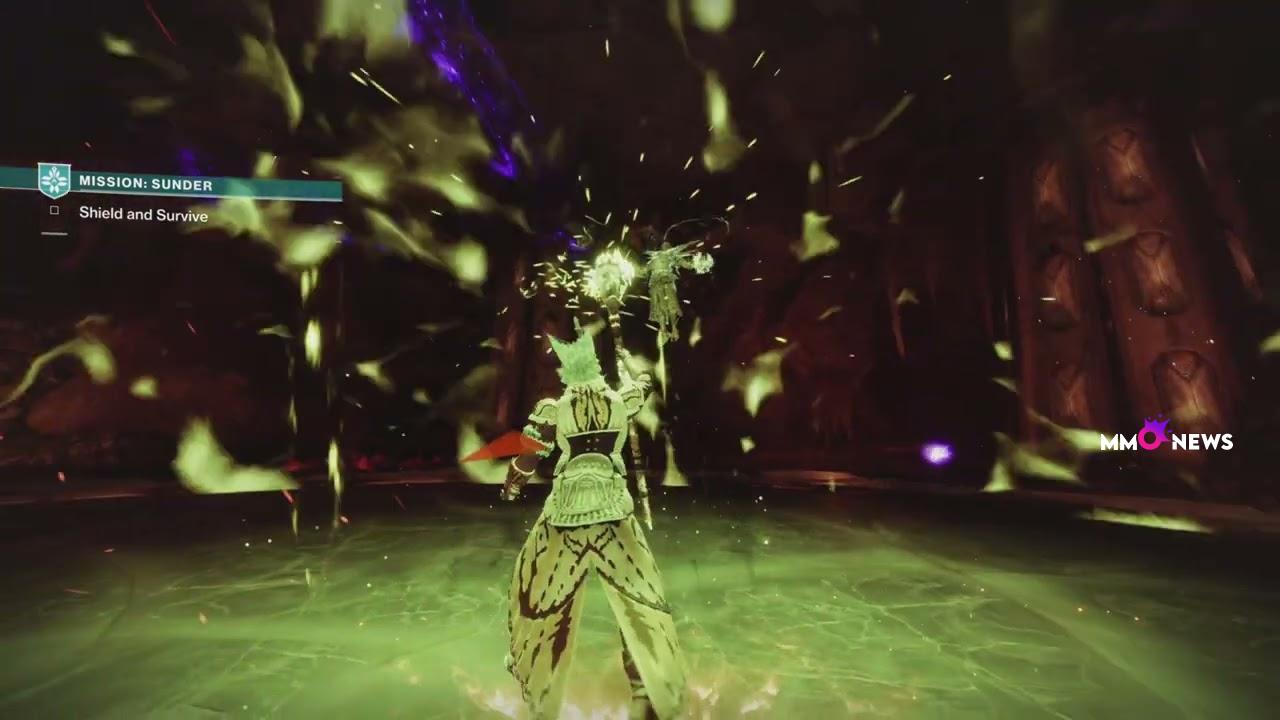 The Final Showdown: The significance of Mission Sunder Destiny 2 lies in its role as the concluding chapter of "The Bladed Path" questline, a narrative arc that has captivated Guardians throughout the Season of the Witch. Eris Morn, a central character in Destiny 2, calls upon Guardians to participate in a critical tithing ritual to combat the looming threat of Xivu Arath. As the culmination of this storyline, Mission Sunder represents the climax of this narrative journey, promising epic battles and storyline resolution.
Challenging Boss Encounter: While Destiny 2 offers a wide range of activities, from casual strikes to challenging raids, Mission Sunder strikes a balance in its difficulty level. It may not reach the intensity of endgame PvE content like dungeons or raids, but it presents a formidable challenge that will test your Guardian's abilities. The final boss, Leviathan-Eater, Bane of the Ammonites, demands strategy, coordination, and skill, making it a perfect option for players seeking a mid-tier challenge.
Unique Gameplay Experience: Destiny 2 is renowned for its dynamic and diverse gameplay experiences, and Mission Sunder is no exception. Unlike some of the season's core activities, this mission doesn't offer matchmaking, emphasizing the importance of communication and cooperation with your fireteam. This unique gameplay structure adds an extra layer of immersion and engagement to the Destiny 2 experience.
Valuable Rewards: Completing Mission Sunder Destiny 2 yields valuable rewards, which are a compelling reason to embark on this mission. Beyond the satisfaction of overcoming challenging encounters, Guardians can expect to earn powerful loot, including weapons, armor, and other valuable resources. These rewards can significantly enhance your Guardian's capabilities and contribute to your overall progression in the game.
How to Complete Mission Sunder Destiny 2
Now that we've established why Mission Sunder Destiny 2 matters, let's dive into the strategies and loadouts that will help you conquer this mission successfully. To ensure your success, we'll provide expert tips for each phase of the Leviathan-Eater boss fight and recommend loadouts tailored to the challenges you'll face.
Recommended Loadouts
Mission Sunder Destiny 2 demands a well-balanced loadout that combines survivability, add-clearing capabilities, and boss damage potential. Here are some recommended loadouts for each Guardian class:
Hunter
Subclass: Arcstrider with Assassin's Cowl
Weapons: One-Two Punch Shotgun and Tractor Cannon
Strategy: Utilize your punches for high damage, self-healing, and temporary invisibility. The One-Two Punch Shotgun and Tractor Cannon will help you deal substantial boss damage.
Warlock
Subclass: Dawnblade
Weapons: Any Primary for add clear and a Heavy weapon for boss DPS
Strategy: Dawnblade's Well of Radiance provides a safe area for boss damage. Equip Sunbracers for grenade spam and faster Super cooldowns.
Titan
Subclass: Sunbreaker with Synthoceps
Weapons: A Primary for add clear and a Heavy weapon for boss damage
Strategy: Utilize Sol Invictus and Roaring Flames to boost survivability and Throwing Hammer damage. Synthoceps enhance your melee capabilities.
When selecting your weapons, opt for a Primary weapon with perks like Voltshot or Incandescent for efficient add clearing. For boss DPS, consider using Rocket Launchers, though alternatives like Lament or Leviathan's Breath can provide safety and sustained ammo at the expense of raw DPS.
Defeating the Leviathan-Eater in Mission Sunder Destiny 2
Now, let's break down the steps to complete Mission Sunder Destiny 2:
Start the mission
Outside the Altars of Summoning, where you'll encounter pools of Hive magic. Interact with these pools to dispel Savathun's traps, allowing you to progress further. You'll eventually find a Hive circle outside Savathun's underground spire, which will dispel the door's exterior runes. Once inside, plant a Rally Flag to prepare for the challenges ahead.
Speaking with Eris
You'll face an onslaught of Hive enemies at the opposite end of the room. The Leviathan-Eater, Bane of the Ammonites, is a massive Hive Knight with three distinct phases. In the first phase, your goal is to remove 15% of its HP. The boss will drop its immunity shield shortly after the encounter begins. Utilize your Heavy weapon or Super to inflict damage as soon as possible to advance to the next phase.
The second phase
Requires you to escort two Solar Crystals to Eris' side. There's no strict time limit, so prioritize clearing out the adds first. Use your Primary weapon or abilities to thin the Hive ranks. If overwhelmed, seek cover under the bridge or near Eris' location. Once most of the Hive threats are eliminated, escort the crystal to a nearby brazier. The crystals will grant x1 Restoration, simplifying this escort section. After depositing both crystals, you'll remove a substantial portion of Leviathan-Eater's HP.
Next Step
After removing slightly over half of the boss' HP, it will retreat and summon Hive ships to bombard your location. Seek refuge with Eris and initiate a Hive ritual to create a protective dome, shielding you from incoming damage. During this phase, numerous Thrall and Knights will converge on your position. If you possess a roaming Super or close-range weapons, now is the ideal time to utilize them effectively.
The End of Mission Sunder Destiny 2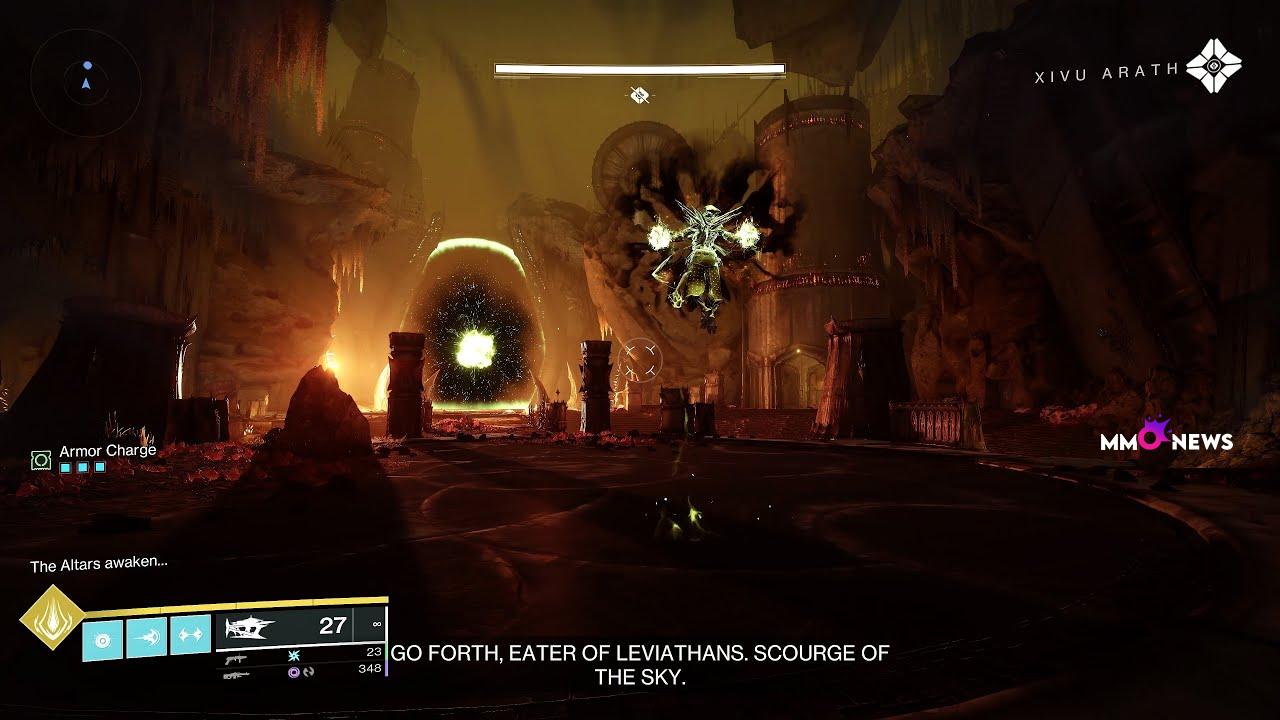 Surviving long enough during this phase will prompt the Leviathan-Eater to charge into the protective dome, shattering it and initiating the final DPS phase. Make the most of your remaining Heavy ammo and abilities to swiftly eliminate the boss. Once the Leviathan-Eater falls, all the Hive adds will despawn. Maintain agile movement to evade its powerful AoE slash attacks, ensuring a smooth victory. Defeat the Hive Knight to conclude the mission and Season of the Witch's questline.
In Conclusion of Mission Sunder Destiny 2
Mission Sunder Destiny 2 represents a pivotal moment in the ongoing narrative of Destiny 2's Season of the Witch. Its significance lies in its role as the climactic conclusion to "The Bladed Path" questline, offering Guardians a challenging and engaging experience that rewards them with valuable loot and contributes to their progression in the game.
To successfully complete Mission Sunder, it's crucial to assemble the right loadout and employ effective strategies for each phase of the Leviathan-Eater boss fight. Whether you choose to play as a Hunter, Warlock, or Titan, our recommended loadouts provide the versatility and power needed to overcome the mission's challenges.
As you embark on this epic journey to confront Xivu Arath's forces and secure victory in Mission Sunder Destiny 2, remember that the Destiny 2 community is always ready to offer support and camaraderie. So, gear up, rally your fireteam, and step into the fray to emerge victorious in this thrilling Destiny 2 mission.