When you step into the world of PoE, one of your initial decisions revolves around class selection. The game offers a diverse range of Path of Exile Classes, totaling seven, although you'll have to unlock one of them during the campaign. Each class embodies distinct playstyles, strengths & weaknesses, making the choice of class a critical element on our journey through the gaming universe.
So, what's the best Path of Exile Classes, and how many classes are there in PoE? Let's delve into these questions and explore the unique qualities of each class to help you make an informed decision.
The Options of Choose Path of Exile Classes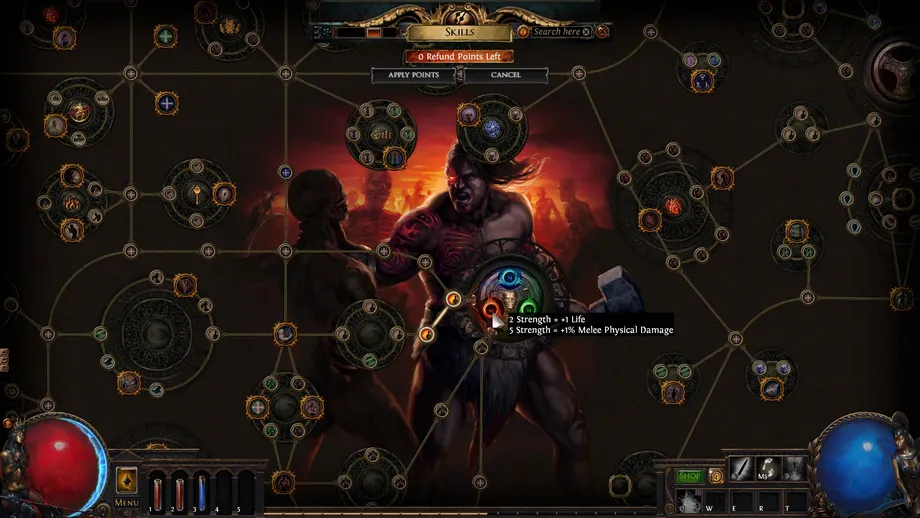 Path of Exile presents six starting classes, each rooted in a specific fantasy role. Before you make your choice, consider the type of gameplay experience you desire. Whether you envision yourself slinging powerful spells, launching deadly arrows, or smashing zombies with a formidable hammer, Path of Exile has a class to match your preferences. Understanding your desired playstyle will guide you towards the most suitable class.
Class Advantages Explained
Each of the six starting Path of Exile Classes excels in particular attributes, offering a distinctive advantage:
Duelist (Dexterity and Strength): The Duelist wields swords and axes with a finesse that combines Dexterity and Strength. This blend enables him to strike swiftly and hit with substantial force. Early skills allow you to choose between increasing your attack speed or maximizing raw damage.
Marauder (Strength): Marauders are hardy warriors who excel in physical combat using mace-like weapons. They boast access to potent two-handed melee skills and defensive abilities near their initial step on the Passive Skill Tree.
Ranger (Dexterity): Rangers are masters of long-range combat, relying on bows for their attacks. They prioritize swift and evasive maneuvers, making them ideal for attacking from a safe distance. Early game progression emphasizes increasing attack speed and evasion.
Shadow (Dexterity and Intelligence): Shadows engage in combat using daggers or claws, employing a combination of weapon and magic abilities. They can delve into Chaos magic and enhance attack speed in the early stages of the game.
Templar (Intelligence and Strength): Templars wield formidable staffs to either bludgeon their enemies or unleash devastating spells. Their early progression allows investment in magic and physical defense skills.
Witch (Intelligence): Witches wield wands and scepters to unleash powerful spell damage through critical attacks.At the initial stage of a hero's progression, they can invest in minion and spell skills.
Additional Class — Scion
Scion (Dexterity, Intelligence, and Strength): The Scion maintains a perfect balance across her stats and begins her journey in the middle of the Build Tree. She essentially serves as a blank slate, allowing you to create your unique character build. However, her even stats make her a challenging class to master.
In addition to your chosen class, your class selection also dictates your initial placement on the expansive Passive Skill Tree.
Passive Skill Tree of Path of Exile Classes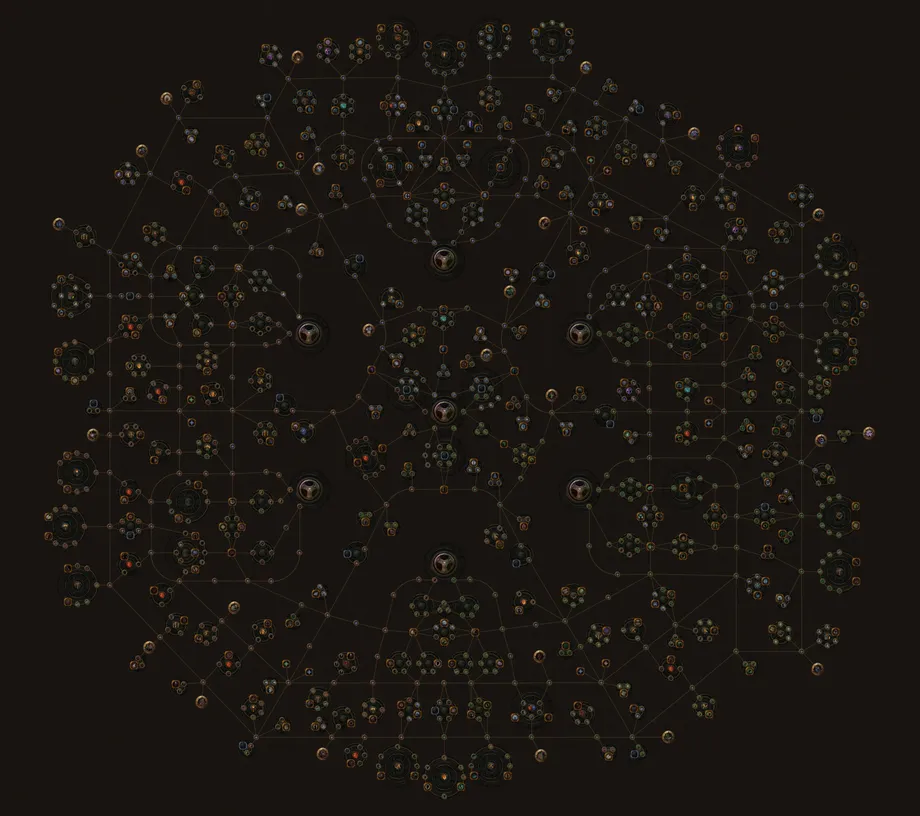 The Passive Skill Tree in Path of Exile presents a labyrinth of possibilities for character development. With every level you gain, you can select new skill nodes to enhance your character's abilities and grow your tree. Your starting node on the tree is determined by your chosen class, and once selected, it cannot be changed.
However, Path of Exile offers flexibility in terms of changing your path and reaching another class's Passive Skill Tree area. For instance, a Templar can extend his reach to access the Marauder's passive area and claim their skills. Keep in mind that this requires a significant investment of skill points compared to starting closer to your desired area.
An exception to this rule is the Scion, who begins her journey in the middle of the Passive Skill Tree and can swiftly branch out towards any of the class trees.
Moreover, it's essential to understand that any class can utilize any ability within the game. However, certain advanced classes can significantly enhance specific types of abilities.
The Power of Ascendancy Path of Exile Classes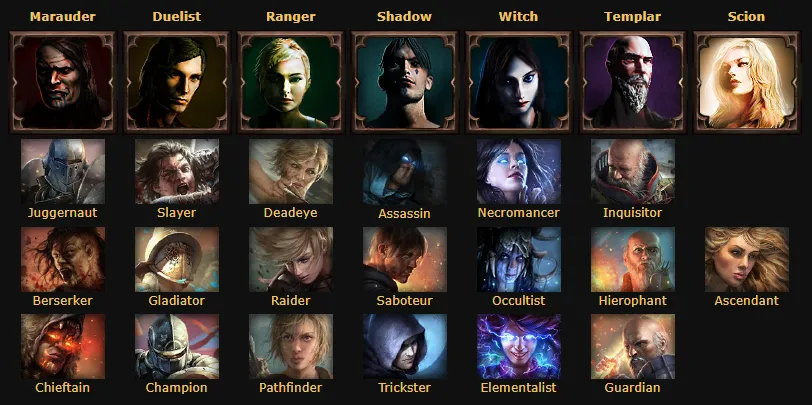 Once you progress to Act 3, you gain the opportunity to unlock The Labyrinth, a random dungeon that grants access to Ascendancy classes. These advanced classes provide specialized enhancements and open up new avenues for character development. Each standard class has three Ascendancy options to choose from, except for the Scion, who has only one:
Marauder: Juggernaut, Berserker, Chieftain
Duelist: Slayer, Gladiator, Champion
Ranger: Deadeye, Raider, Pathfinder
Shadow: Assassin, Saboteur, Trickster
Witch: Necromancer, Occultist, Elementalist
Templar: Inquisitor, Hierophant, Guardian
Scion: Ascendant
Each Ascendancy tree offers unique bonuses that cater to different playstyles, such as augmenting elemental damage, minion capabilities, or totem effectiveness. Therefore, it's crucial to consider your long-term gameplay goals and desired character build before selecting your Ascendancy class.
Evaluating Ease of Play
When determining the ease of playing a particular class in Path of Exile, it's important to note that a class's base stats play a crucial role, rather than their capabilities. Classes with a focus on Dexterity, like the Ranger and Witch, are considered safe choices as their starting stats enable them to deal significant damage from a distance. However, they are vulnerable to close-range attacks and can be easily defeated if enemies get too close. These classes are ideal for players who excel at kiting, which involves constant movement and brief stops to attack.
On the other hand, classes with a substantial Strength foundation, such as the Marauder, Templar, and Duelist, thrive in close-quarters combat. Despite their proximity to danger, they possess higher survivability compared to ranged characters. For beginners, we recommend either the Marauder for melee damage or the Templar for a blend of melee and magic, as they are both resilient classes.
Ultimately, your choice of class should align with your personal preferences and the character you identify with the most. If you find yourself overwhelmed by the intricacies of stats and skills, don't hesitate to pick the class that resonates with you visually. In Path of Exile, regardless of your initial challenges, every class can thrive and excel as you progress through the game.
In conclusion of Path of Exile Classes
Path of Exile offers a diverse array of classes, each with its unique strengths and advantages. Your class choice will shape your gaming experience and character progression. Whether you prefer the elegance of ranged combat, the brute force of melee, or the versatility of magic, there's a class to suit your playstyle. As you journey through the vast Build Tree and explore Ascendancy options, remember that your path is flexible, and your character's destiny lies in your hands. Choose wisely, and embark on your epic adventure in the world of Path of Exile.