Means of travel have at last galloped their way into NW, and if you're anything like us, you're itching to saddle up and explore Aeternum in style. The gateway to this equestrian adventure lies within the "My Kingdom for a Horse" quest, a thrilling questline that leads you to your very first mount in the game. So, if you're eager to experience the joy of riding through the beautiful landscapes of New World on horseback, then read on as we provide you with a detailed roadmap on how to complete the "My Kingdom for a Horse" quest.
Beginning Your My Kingdom for a Horse Quest
Picture this: you're standing in Everfall, surrounded by the bustling activities of the settlement. The promise of a horse awaits, but you need to embark on the New World mount questline to claim it. Your journey starts by having a conversation with Jochi Khan, who is your key to unlocking the world of mounted exploration.
For those who have yet to initiate this questline, fret not. The starting point is simple to locate. Look for the Mud-Stained Note icon on your map; it will guide you to where your adventure with horses begins.
Following the Trail
With your mission in hand, set out into the untamed wilderness of Aeternum. Your goal is to seek out the elusive signs of the legendary beast lords. These powerful creatures are the key to unlocking the secrets of horse bonding.
Begin your journey by heading south, then south again, and finally east from your current location with Khan. You'll soon find yourself at the edge of a serene lake. Nestled nearby is a cave that beckons you with its enigmatic aura. You'll likely notice other treasure hunters and thrill seekers converging on this spot, a testament to the quest's popularity.
Venture into the cave, and you'll be greeted by a captivating mural adorning the cavern wall. This mural is more than just a work of art; it's your gateway to horse-dom. Interact with it to set the wheels in motion for your equine adventure.
After communing with the mural, to turn back and explore a little hollow within the cave. Here, you'll discover Azoth-infused oats ripe for mining and a signet that begs to be collected. These valuable finds will play a crucial role in your journey.
With your pockets filled with newfound treasures, exit the cave and gaze across the water. A majestic horse awaits, yearning for a bond with a worthy rider. Approach the horse and engage in a heartwarming interaction that solidifies your connection with your newfound companion.
Return to Khan
Your task isn't quite complete yet. Bid farewell to your equine friend and make your way back to Jochi Khan. He's eagerly awaiting your return, and with a sense of accomplishment, you'll find him more than willing to grant you your very first mount.
The Road Ahead My Kingdom for a Horse Quest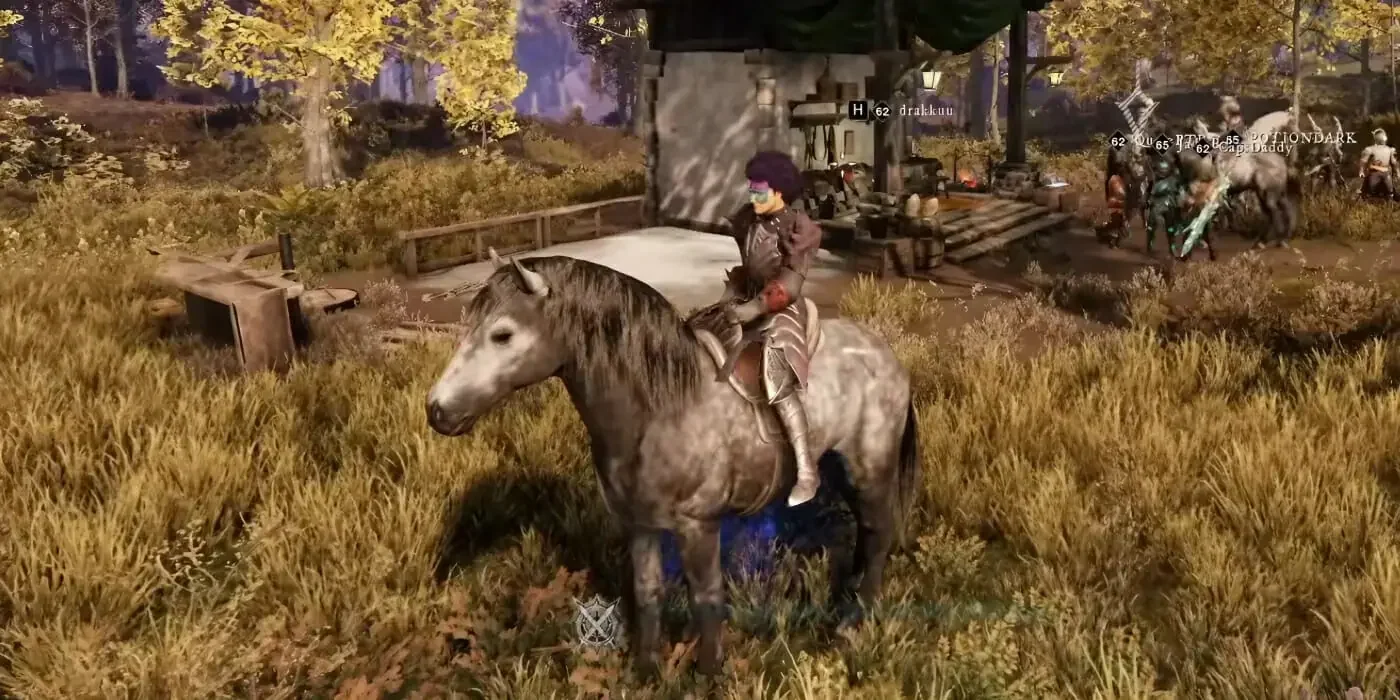 Now that you're mounted up and ready to ride, the rest of Khan's quest line for a riding animal unfolds before you. This thrilling adventure will take you on a whirlwind tour of Aeternum, including exciting races that will put your newfound riding skills to the test. But perhaps the most exciting part of this journey is the opportunity to acquire unique New World mounts, each with its own distinct charm and abilities.
As you embark on your mounted escapades, remember that the world of Aeternum is vast and filled with mysteries, challenges, and treasures. Your trusty steed will be your loyal companion through it all, allowing you to traverse the landscapes of this otherworldly realm with grace and speed.
So, whether you're racing through the dense forests, exploring the eerie depths of ancient ruins, or engaging in epic battles against supernatural foes, your horse will be there to support you every step of the way.
Conclusion of My Kingdom for a Horse Quest
In the vast and ever-evolving world of New World, the introduction of mounts has added a new dimension to the gameplay experience. With your loyal steed by your side, you'll be able to navigate the expansive landscapes of Aeternum with ease and style. The "My Kingdom for a Horse" quest serves as your gateway to this exciting feature, and by following the steps outlined in this guide, you'll be well on your way to mounting up and embarking on unforgettable adventures.
Don't let the opportunity to explore New World on horseback pass you by. Seek out Jochi Khan, embark on your quest, commune with the beast lords, and forge a bond with your trusty steed. As you gallop through the untamed beauty of Aeternum, you'll discover that the world has never felt so vast and inviting, and your adventures have never been so thrilling. Enjoy your journey through New World, and may your horse be your faithful companion in all your adventures.
So, saddle up, adventurer, for in New World, your kingdom awaits—My Kingdom for a Horse!