In the world of Path of Exile, challenges abound at every corner, and Maven stands as one of the most formidable adversaries you'll encounter. Maven Kill PoE is a true test of your skills, tactics, and knowledge. This guide is your key to mastering the art of taking down this powerful boss. Whether you're a seasoned exile or just starting your journey, we've got you covered. So, if you're wondering, "How to Kill Maven in PoE?" and "What tactic in Maven in Path of Exile?", read on to uncover the secrets of success.
Understanding the Maven Encounter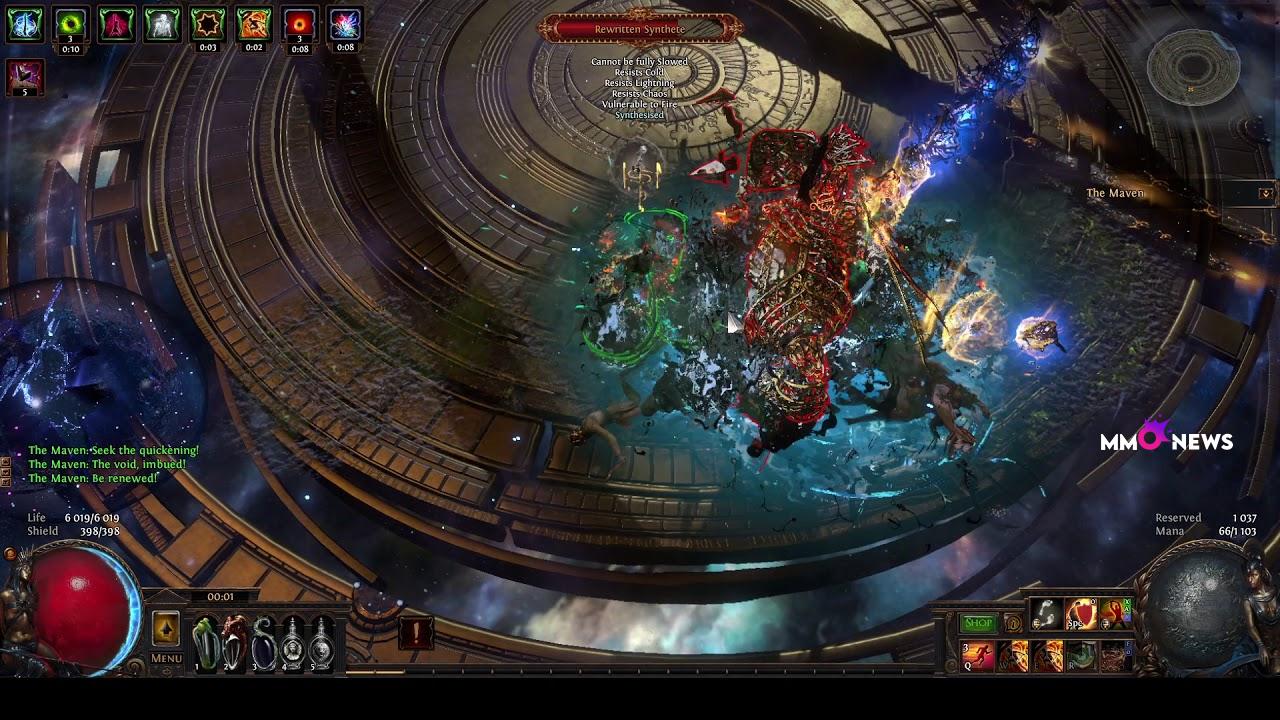 Maven is a complex boss with multiple phases, each more challenging than the last. To emerge victorious, you need to understand the mechanics of the fight and prepare accordingly. Here's a breakdown of the encounter:
Phase 1 of Maven Kill PoE: The Observatory
Maven starts the fight in her Observatory, where she observes and tests your combat skills. During this phase, you'll face a series of waves of enemies, each with unique mechanics and challenges. The key to success here is to adapt quickly and efficiently to dispatch these foes.
Phase 2 of Maven Kill PoE: Memory Map
Once you've proven your worth in the Observatory, Maven will challenge you further by testing your memory. She will unveil a Memory Map with various modifiers and tasks. Your goal is to navigate this map, complete the tasks, and avoid deadly traps. Pay close attention, as memory and precision are your allies in this phase.
Phase 3 Maven Kill PoE: The Arena
After successfully traversing the Memory Map, you'll enter the Arena, where Maven herself awaits. This phase is the ultimate test of your combat prowess. Maven employs a range of devastating attacks, from ethereal projectiles to summoning allies to aid her. Surviving and defeating Maven requires a combination of strategy, dodging, and dealing with damage.
Now, let's delve into the tactics to defeat Maven in each of these phases.
Phase 1: The Observatory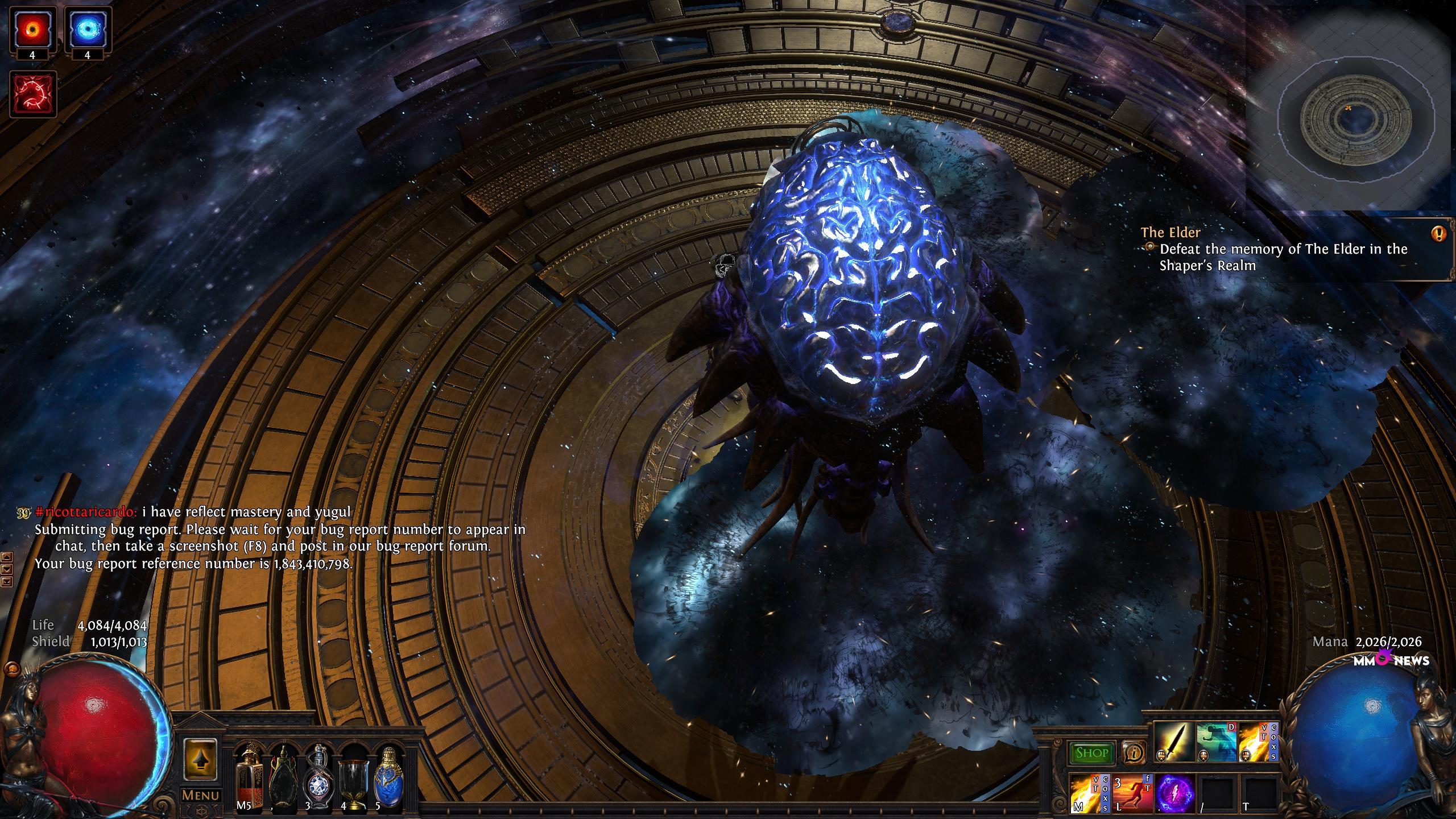 Look at the information below:
Mob Management: Prioritize dealing with the waves of enemies efficiently. Use area of effect (AoE) skills to clear groups quickly. Be aware of enemy abilities and dodge or mitigate their damage.
Staying Mobile: Movement is crucial in this phase. Keep moving to avoid being overwhelmed. Maven's attacks can be deadly if you're caught off guard.
Resource Management: Monitor your health and mana/energy shield. Use flasks and skills wisely to ensure you have enough sustain throughout the phase.
Evasion and Defense: Invest in evasion or defensive mechanics to reduce incoming damage. Consider having a decoy totem to divert enemy attention.
Damage Output: While survival is key, don't forget to focus on dealing with damage as well. Maven's minions can be a nuisance if left unchecked, so eliminate them swiftly.
Environmental Awareness: Pay attention to your surroundings. The Observatory has obstacles that can hinder your movement, so be mindful of where you position yourself.
Learn Enemy Patterns: Each wave of enemies has its unique behavior. Observe their attack patterns and adapt accordingly. Knowledge is power in this phase.
Phase 2: Memory Map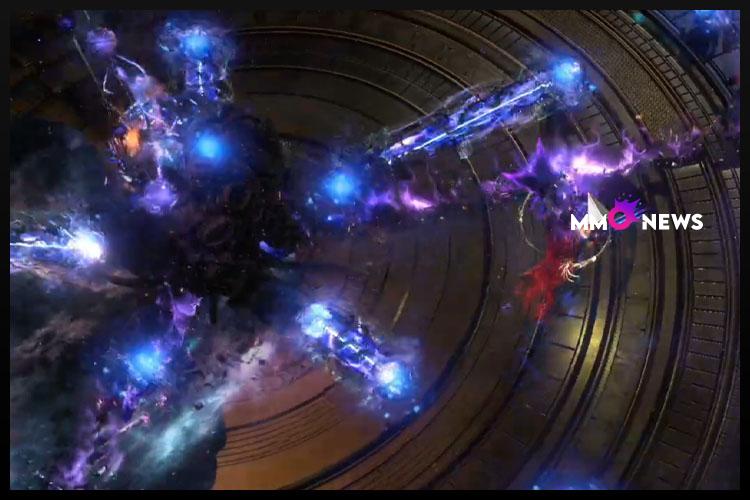 Look at the information below:
Task Completion: Focus on completing the tasks presented on the Memory Map. These tasks often involve killing specific enemies or reaching certain points. Please pay close attention to the modifiers, as they can affect your strategy.
Memory Recall: Utilize your memory recall skills effectively. They allow you to backtrack and correct your path if necessary. Don't hesitate to use them when you're unsure.
Trap Awareness: Beware of traps scattered across the Memory Map. They can deal significant damage or even lead to your demise. Move cautiously and use skills that detect traps if available.
Cooldown Management: Keep an eye on your skill cooldowns and flask charges. Efficiently managing your resources is crucial for success.
Stay on the Move: Constantly moving in this phase is essential. Standing still or hesitating can lead to failure, as some tasks have strict timers.
Phase 3: The Arena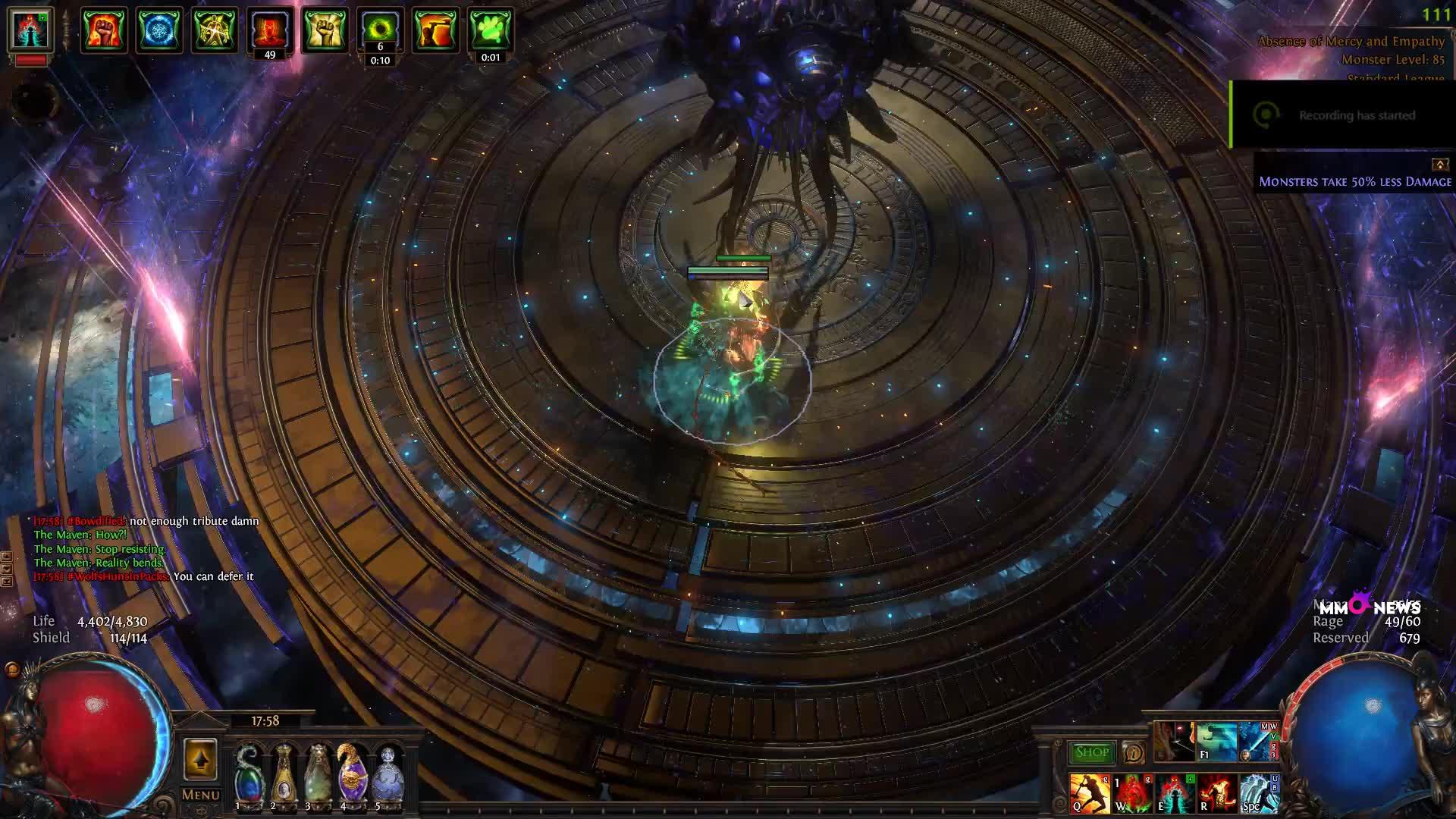 Look at the information below:
Dodge and Weave: Maven's attacks in the Arena can be devastating. Pay close attention to her animations and telegraphs, and practice dodging and evading her attacks. Movement skills and quick reflexes are your friends here.
Flask Usage: Use your flasks wisely to maintain your health and other resources. Consider having instant recovery flasks for emergencies.
Positioning: Position yourself strategically. Avoid getting cornered or trapped by Maven's attacks. Stay at a distance when she uses powerful AoE abilities and get in close when there's an opportunity to deal damage.
Damage Dealing: Prioritize damage over time (DoT) effects, as they can continue to harm Maven even when you need to evade her attacks. Focus on hitting her during moments when she's vulnerable.
Patience: Maven has multiple phases within the Arena, each with its unique challenges. Be patient, learn from your mistakes, and adapt your tactics accordingly.
Buffs and Debuffs: Utilize your character's buffs and debuffs wisely. Apply curses or debuffs to Maven to weaken her, and make sure your character is well-buffed with defensive enhancements.
Learn Maven's Patterns: As you attempt the Arena more often, you'll become familiar with Maven's attack patterns and behavior. Use this knowledge to your advantage.
In Conclusion
Killing Maven in Path of Exile is a challenging but rewarding endeavor. It requires a combination of mechanical skill, knowledge of the encounter, and strategic planning. Remember to adjust your build and gear to optimize your chances of success, and don't be discouraged by initial failures. With persistence and these tactics in mind, you'll be well on your way to defeating Maven and claiming victory in Path of Exile.
So, gear up, exile, and show Maven that you are a force to be reckoned with in the world of Wraeclast. Happy hunting, and may the loot be ever in your favor!
Extra Tips for Maven Mastery
Learn Them All:
Build Synergy: Ensure your character build and equipment synergize well. Maven can be particularly challenging for specific builds, so consider making adjustments if necessary.
Practice Makes Perfect: Don't hesitate to practice the Maven encounter repeatedly. Mastery comes with experience, and each attempt will bring you closer to victory.
Team Up: If you find Maven too challenging to defeat solo, consider teaming up with other players. A well-coordinated group can make the encounter more manageable.
Stay Informed: Keep an eye on Path of Exile forums and community resources for updated strategies and tips from other players who have successfully defeated Maven.
Adapt Your Flasks: Customize your flask setup to suit the encounter. Maven's attacks may require specific flask modifiers to mitigate damage effectively.
Evaluate Your Gear: Periodically review and upgrade your gear to ensure you're maximizing your character's potential. Maven rewards perseverance, so invest in your character's progression.
Remember, the path to victory in Path of Exile is fraught with challenges, and Maven is but one of them. Embrace the journey, learn from your experiences, and revel in the satisfaction of overcoming seemingly insurmountable odds. Good luck, exile!