Welcome, fellow adventurers, to our comprehensive WoW WotLK Herbalism Guide dedicated to the beloved expansion, WotLK. In this guide, we will take you on a journey through the bountiful world of Azeroth, helping you master the art of Herbalism from level 1 to 450. Whether you're a new player or a seasoned veteran returning to the realms of Northrend, our step-by-step instructions, insider tips, and location recommendations will ensure you become a master of this lucrative profession in no time.
Getting Started with WoW 3.3.5 Herbalism Guide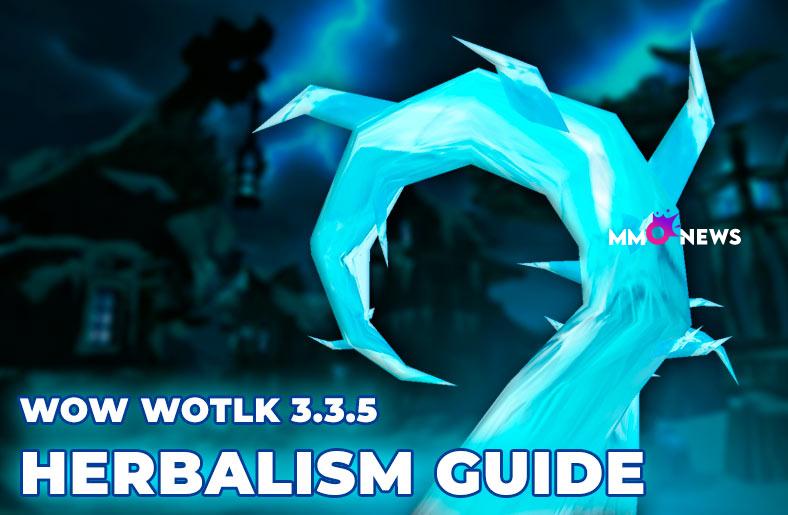 Embarking on the path of an herbalist in the Wrath of the Lich King (WotLK) expansion is not merely about gathering herbs but understanding the rich and vibrant world of Azeroth and the myriad of flora that it offers. The 3.3.5 patch of WotLK brought a plethora of content and opportunities for herbalists to explore, gather, and prosper.
Understanding the Herbalism Profession
Herbalism in WoW is not merely a profession; it's an exploration of the world through its natural resources. Herbs in Azeroth are not only used in crafting professions like Alchemy and Inscription but are also essential for creating various items that players across all levels find valuable, such as healing potions, elixirs, and glyphs. Understanding the significance of each herb, its spawning locations, and its uses is pivotal to mastering Herbalism.
The First Steps into Herbalism
To begin your journey, locate an Herbalism trainer in any major city. Trainers will provide you with the initial skill level and a brief overview of the profession. Your first task will be to navigate through the starting zones, identifying and gathering your first herbs, such as Peacebloom and Silverleaf. These initial herbs will be crucial in elevating your skill level from 1 to 75.
The Herbalism Skill Bar
Upon training, your skill bar will reflect your proficiency in Herbalism, starting from 1 and capping at 450 for WotLK. Each herb you gather will contribute to increasing this skill, albeit the higher your skill gets, the more you'll need to gather to progress.
Tools of the Trade
While no specific tools are required to gather herbs, certain items and addons can enhance your herbalism journey:
Herbalist's Spade: A tool that can potentially increase the speed of herb gathering.
Gatherer Addon: An essential addon that tracks your herb gathering routes and displays them on your map, ensuring you remember the fruitful locations.
Herb Pouch: A specialized bag that allows you to store more herbs, optimizing your gathering runs.
As you traverse through the zones, understanding the terrain and potential dangers is crucial. Each zone offers different herbs, each with their own properties and uses. For instance, the tranquil Eversong Woods is abundant with Silverleaf, while the harsh terrains of Northrend offer more advanced herbs like Icethorn and Lichbloom.
The Economic Perspective
Understanding the WoW economy is crucial for an herbalist. The Auction House is your primary platform for selling herbs. Knowing which herbs are in demand, which are scarce, and the prime times to sell can significantly boost your gold earnings. For instance, raid nights are often a good time to sell, as players seek potions and flasks.
WotLK Herbalism Leveling Process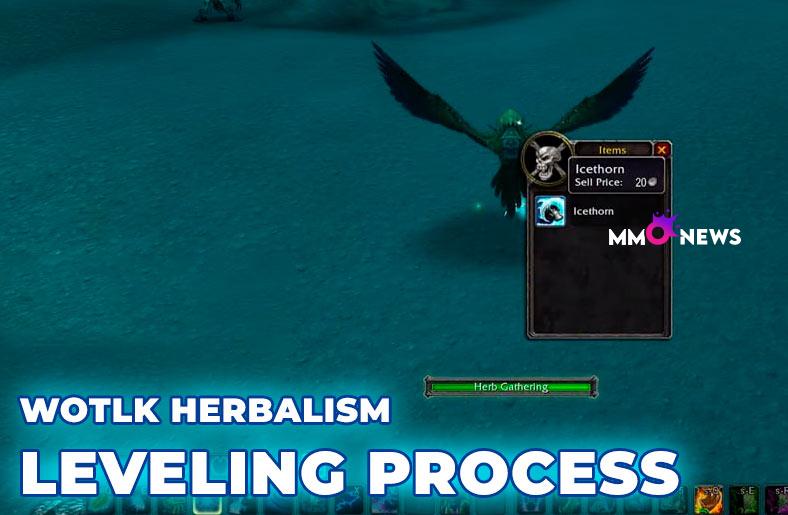 Herbalism, like all professions in World of Warcraft, requires dedication, strategy, and a keen understanding of the Azerothian landscape. Leveling up in Herbalism isn't just about gathering herbs; it's about optimizing your routes, understanding the ecosystems of each region, and knowing the best times to harvest. Let's delve deeper into the leveling process:
The Basics of Leveling
Every herb you gather grants you experience points (XP) towards your Herbalism skill. The color of the herb name when you hover over it indicates the difficulty:
Orange

: 100% chance of increasing your skill level.

Yellow

: A good chance of increasing your skill level.

Green

: A small chance of increasing your skill level.

Grey

: No chance of increasing your skill level.
Levels 1-75: The Starting Zones
Horde: Begin in Durotar or Mulgore, gathering Peacebloom, Silverleaf, and Earthroot. These zones are rich in beginner herbs.
Alliance: Elwynn Forest and Teldrassil are your go-to zones. The same herbs found in the Horde starting zones are abundant here.
Levels 75-150: Diversifying Your Collection
Move to Hillsbrad Foothills or Darkshore. Here, you'll find Mageroyal, Briarthorn, and the elusive Stranglekelp near the coastlines. These herbs are slightly more challenging to gather but offer more XP.
Levels 150-225: Exploring New Territories
Desolace and Arathi Highlands are excellent choices. While Desolace offers a vast amount of Fadeleaf and Goldthorn, Arathi Highlands is rich in Kingsblood and Liferoot. These herbs are essential for mid-level alchemy recipes, making them valuable in the Auction House.
Levels 225-300: The Journey to Outland
Before heading to Outland, spend some time in Felwood and Plaguelands. These zones are teeming with valuable herbs like Gromsblood, Dreamfoil, and Plaguebloom.
Levels 300-375: Outland Adventures
Outland, the shattered world, offers unique herbs not found in Azeroth. Start in Hellfire Peninsula with Felweed and Dreaming Glory. Later, venture into Zangarmarsh and Terokkar Forest for herbs like Ragveil and Netherbloom.
Levels 375-450: The Icy Wastes of Northrend
Your journey in Northrend begins in Borean Tundra and Howling Fjord. These zones are rich in Goldclover, Tiger Lily, and Talandra's Rose. As you progress, Sholazar Basin and Icecrown will become your primary gathering spots, offering a plethora of Icethorn, Lichbloom, and the rare Frost Lotus.
Tips for Efficient Leveling WoW WotLK Herbalism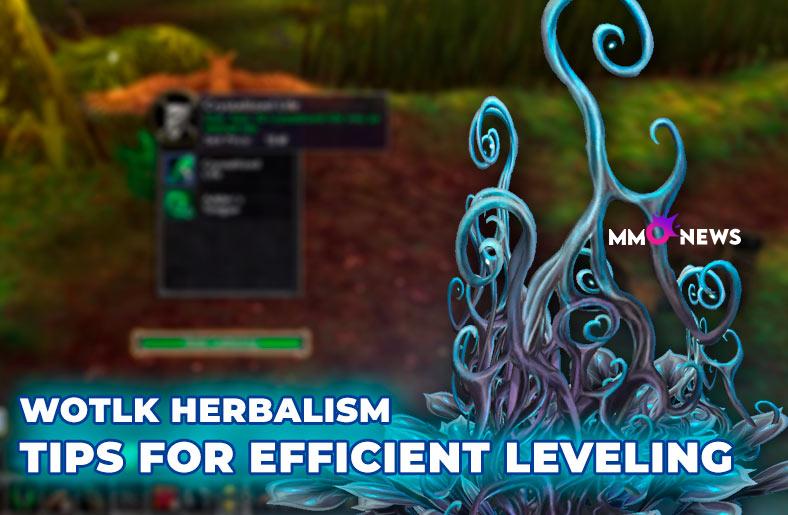 Navigating the world of Herbalism in Wrath of the Lich King requires a blend of strategy, knowledge, and a keen sense of the environment. To help you streamline your leveling process and make the most of your time in Northrend, here are some expanded tips:
Understand the Terrain
Northrend, the setting for Wrath of the Lich King, is a vast continent with a diverse range of ecosystems. Each zone within this icy land has its unique topographical features, climate, and, consequently, its distinct flora. To be a master herbalist, one must not only know where to look but also understand the intricacies of each region's terrain. Here's a deeper dive into understanding Northrend's terrains:
Howling Fjord: With its deep fjords, towering cliffs, and coastal areas, this zone is rich in herbs like Tiger Lily. The coastal climate and the presence of freshwater bodies make it an ideal location for such herbs.
Grizzly Hills: Dominated by dense woodlands and rolling hills, this region is home to herbs that thrive in forested areas. The shade from the tall trees and the moisture from the rivers provide a nurturing environment for a variety of plants.
Dragonblight: A barren wasteland scarred by the blue flames of the blue dragonflight. While it might seem inhospitable, the mineral-rich soils here can yield herbs like Lichbloom, which are adapted to such harsh conditions.
Icecrown: The stronghold of the Lich King, this glacier-dominated region is as deadly as it is beautiful. The extreme cold has led to the evolution of specific herbs that can survive in such low temperatures. Gathering here is risky but can be rewarding.
Sholazar Basin: A lush oasis in the midst of Northrend's icy expanse. Its tropical climate, waterfalls, and verdant landscapes make it a haven for a plethora of herbs. The basin's unique microclimate is a result of titan technology, which also affects the kind of flora that grows here.
Storm Peaks: Towering mountains and deep caves define this region. The high-altitude combined with the cold makes it home to specific alpine flora. Herbs here have adapted to the thin atmosphere and intense UV radiation.
Borean Tundra: A mix of icy plains and marshlands, this zone is home to a diverse range of herbs. The permafrost combined with pockets of marshy areas creates a unique environment for both cold-loving and water-loving plants.
Zul'Drak: An old troll empire, this region with its terraced levels and ancient ruins has a mix of cultivated and wild herbs. The ancient troll practices and their reverence for plants mean some unique flora can be found here.
Utilize Add-ons
In the vast world of Azeroth, especially in the expansive regions of Northrend, add-ons can be a herbalist's best friend. They streamline the gathering process, provide valuable data, and enhance your overall experience. Here are some essential add-ons for any budding herbalist:
GatherMate2: This is the go-to add-on for many herbalists. It tracks your herb gathering and displays potential herb locations on your map based on community data. Over time, it creates a comprehensive database of herb locations for you.
Routes: Working hand-in-hand with GatherMate2, Routes allows you to draw paths on the world map linking together several herb nodes to create the most efficient route for gathering.
FarmingBar: A dynamic toolbar that helps you track items, like herbs, you're farming. It provides a visual representation of your gathering progress and can be customized to show only the herbs relevant to your current location or goals.
HerbTracker: This add-on provides a timer for herb respawns. If you've just picked a Frost Lotus, for instance, HerbTracker will give you an estimate of when it might respawn, allowing you to plan your route accordingly.
QuickGather: Speed is of the essence, and QuickGather reduces the time it takes to loot herbs. With one click, you can gather and move on, making your routes even more efficient.
WoW-Pro Leveling Addon: While not strictly for herbalists, this add-on provides step-by-step leveling guides. You can integrate your herbalism goals with it, ensuring you gather while also completing quests and leveling up.
Auctioneer: For those looking to profit from their gathered herbs, Auctioneer provides real-time data on auction house prices. Knowing the value of your herbs can help you decide which ones to prioritize.
GatherHud: Instead of constantly checking your mini-map, GatherHud projects herb node locations right onto your game screen, ensuring you never miss a node while immersed in the game.
Remember, while add-ons can significantly enhance your herbalism experience, it's essential to keep them updated. Outdated add-ons can cause issues or inaccuracies. Regularly check for updates, especially after major game patches.
Pair with Complementary Professions
In the interconnected world of Azeroth, professions often overlap, creating synergies that can be both profitable and efficient. Herbalism, with its focus on gathering natural resources, naturally complements several other professions. Here's a deeper dive into how you can maximize your Herbalism by pairing it with other skills:
Alchemy: This is the most obvious and popular pairing with Herbalism. Alchemists transform herbs into potent potions, elixirs, and flasks. As an herbalist, you provide a steady supply of ingredients, ensuring you can craft the latest and most in-demand concoctions without relying on the auction house. This synergy not only saves gold but can also be a significant source of income.
Inscription: Introduced in the WotLK expansion, Scribes use herbs to create inks, which are then used to craft glyphs, scrolls, and even some trinkets. By gathering your herbs, you can ensure a consistent supply of inks for all your Inscription needs. This pairing is especially lucrative early in expansions when the demand for new glyphs is high.
Cooking: While not as direct a pairing as Alchemy or Inscription, several cooking recipes, especially in later expansions, require herbs as ingredients. Being an herbalist ensures you always have the freshest ingredients for your culinary creations.
First Aid: In earlier versions of WoW, some First Aid recipes, like certain anti-venoms, required herbs. While this has become less prevalent in later expansions, it's still a nice bonus for those who've kept their First Aid skill up to date.
Tailoring: Some advanced tailoring recipes, especially those that craft specialty bags like the Herb Pouch, require specific herbs. An herbalist tailor can gather these without the added cost or time of sourcing them from other players.
Enchanting: While not a direct synergy in terms of crafting, the combination of Herbalism and Enchanting can be economically beneficial. Gather herbs to sell on the auction house and then use the profits to buy materials for your enchanting. Alternatively, disenchant unwanted gear obtained during herb gathering adventures to supplement your income.
Stay Alert for Rare Herbs
In the expansive world of Northrend, certain herbs stand out not just for their rarity but also for their immense value in crafting and the in-game economy. Being vigilant and understanding where and when these rare herbs might appear can significantly boost your leveling speed and gold earnings. Here's a deeper dive into the world of rare herbs:
Frost Lotus: This elusive herb can occasionally be found in any Northrend herb node. However, it's more commonly found in Wintergrasp. Given its use in high-end alchemy recipes, it's always in demand. When gathering in Northrend, always hope for the pleasant surprise of finding a Frost Lotus.
Adder's Tongue: Primarily found in Sholazar Basin, this herb has a slightly higher chance of yielding a Frost Lotus. Its vibrant green appearance makes it stand out, but it's often located near aggressive mobs, so caution is advised.
Icethorn and Lichbloom: These herbs are the backbone of high-level potion and flask crafting. Found in the snowy regions of Icecrown and Storm Peaks, they might not be as rare as Frost Lotus, but their consistent demand makes them equally valuable.
Goldclover: While not as rare as some of the others, Goldclover can yield bonus herbs when gathered, including the coveted Frost Lotus. Found near water sources in various Northrend zones, it's always worth picking up.
Timing and Weather: Believe it or not, certain in-game conditions can affect herb spawns. For instance, after a rain in Grizzly Hills, there's anecdotal evidence to suggest an increased spawn rate for certain herbs. While not confirmed, it adds a layer of depth to the gathering process.
Protect Your Nodes: Given the value of rare herbs, competition can be fierce. If you spot a rare herb, approach it cautiously. Be wary of other players who might be racing you to the node. In PvP servers, this becomes even more critical as players might attack you to secure the herb for themselves.
Research and Community: Join herbalism communities online, like forums or Discord servers. Players often share their findings, tips, and tricks. Knowing the latest trends or discoveries can give you an edge in finding these rare herbs.
Invest in Speed
In the world of Herbalism, speed is more than just a luxury; it's a necessity. The faster you can travel between herb nodes, the more efficient your gathering becomes, leading to increased experience and potential profit. Here's how you can optimize your speed and make the most of your time in Northrend:
Mount Upgrades: Starting with the basics, ensure you have the fastest mount available for your level. As you progress, invest in epic flying mounts to traverse Northrend's vast landscapes swiftly.
Terrain Navigation: Some areas in Northrend, like the cliffs of Howling Fjord or the icy crevices of Icecrown, can be challenging to navigate. Using a flying mount or even a water-walking potion can help bypass these obstacles.
Mithril Spurs: These are metal spurs you can attach to your boots, increasing your mounted speed. Every little bit helps, and these spurs can give you that slight edge over other gatherers.
Carrot on a Stick: An old but gold trinket that increases mount speed. While there are more modern speed enhancements, every seasoned player will remember this iconic item.
Swiftness Potions: These are alchemical concoctions that give you a burst of speed for a short duration. Handy when you're on foot or in areas where mounting isn't possible.
Darkmoon Skate: This unique mount allows you to move swiftly in water, perfect for gathering aquatic herbs or when navigating watery terrains.
Pathfinding Abilities: Some classes, like the Hunter, have abilities that increase their movement speed. Make sure to utilize these skills whenever possible.
Enchantments: Look for boot enchantments that boost speed. While some might offer a minor increase, others, especially from later expansions, can provide a significant boost.
Goblin Gliders: These are especially useful in mountainous regions. Instead of navigating around a mountain, simply glide over it, saving precious time.
Draenic Swiftness Potion: An upgrade from the regular Swiftness Potion, this Draenor concoction provides an even more significant speed boost.
Master the Art of Multi-tasking
In the expansive world of Azeroth, efficiency is key. As you journey through Northrend's vast landscapes, mastering the art of multi-tasking can significantly enhance your herbalism experience, ensuring you make the most of every moment. Here's how to seamlessly integrate multiple tasks while gathering herbs:
Quest Integration: Often, herbalism nodes are located near quest objectives. Before embarking on a quest, review your map for potential herb locations. As you complete quest objectives, gather herbs along the way. This dual approach ensures you're always progressing in both your quest log and your herbalism skill.
Pair with Fishing: Many valuable herbs, like Tiger Lily, are found near water bodies. As you approach a lake or river for herbs, take a moment to fish. Not only does this level up another profession, but certain fish are also valuable in the market.
Combat Readiness: In hostile zones, you'll often find herbs guarded by mobs. Instead of avoiding these areas, be prepared for combat. Engage enemies, gather the herb, and then continue on your path. This approach ensures you're also gaining combat experience while gathering.
Engage in World Events: During certain world events or festivals, there might be bonuses to gathering professions. Participate in these events and integrate herb gathering into your activities. This way, you benefit from event rewards and level up your herbalism.
Group Gathering: Team up with friends or guildmates for gathering expeditions. While one player focuses on gathering, others can handle mobs or scout ahead for more herb nodes. Working in a group can make gathering faster and more efficient.
Leverage Mounts and Pets: Use flying mounts to quickly move between herb nodes, especially in zones with challenging terrains. Additionally, certain pets can help deter or handle mobs, ensuring you gather herbs uninterrupted.
Craft on the Go: If you've paired herbalism with a crafting profession like Alchemy or Inscription, don't wait to return to a city to craft. As your bags fill with herbs, craft potions, elixirs, or glyphs on the go. This approach frees up bag space and helps you level up your crafting profession.
Plan Your Inventory: Before setting out, ensure you have enough bag space to accommodate herbs, quest items, and any other loot. An organized inventory ensures you don't have to stop and manage items, allowing for uninterrupted gathering.
Know the Competition
In the bustling world of Azeroth, competition for resources is fierce. As a herbalist, understanding your competition can be the key to efficient gathering. Here's a deeper dive into navigating the competitive landscape:
Server Population: High population servers typically mean more competition. If you're serious about herbalism, consider the server's population density before starting. Sometimes, a medium or low population server can offer a more relaxed gathering experience.
Peak Hours: Just like in the real world, there are peak hours in WoW when most players are online. These times often see heightened competition for herb nodes. If possible, adjust your gathering sessions to off-peak hours for a better yield.
Guild Dynamics: Some large guilds have dedicated gathering teams, especially if they're focused on raiding or crafting. Being aware of such guilds and their active hours can help you avoid direct competition.
Zone Popularity: Not all zones in Northrend are equally popular. While some zones like Icecrown might be crowded due to quests and events, others like Storm Peaks might be less frequented, offering a quieter gathering experience.
PvP vs. PvE Servers: On PvP servers, competition isn't just about gathering. It's also about surviving against players from the opposing faction. If you're on a PvP server, always be on guard and consider teaming up with friends for protection.
Economic Trends: The in-game auction house can give insights into which herbs are in high demand. If you notice a particular herb's price spiking, expect more gatherers to be on the lookout for it.
Community Forums & Groups: Platforms like the WoW subreddit or the official forums often have discussions about herbalism hotspots. Keeping an eye on these can give you a heads-up about areas that might be currently crowded.
In-game Events: Events like the Darkmoon Faire can influence player movement and zone populations. During such events, some zones might see a decrease in competition, making it an opportune time to gather.
Adaptability: The best herbalists are adaptable. If you find one zone too competitive, have a backup plan. Always be ready to switch zones or change your gathering strategy based on the competition.
WotLK Herbalism Gold-Making Guide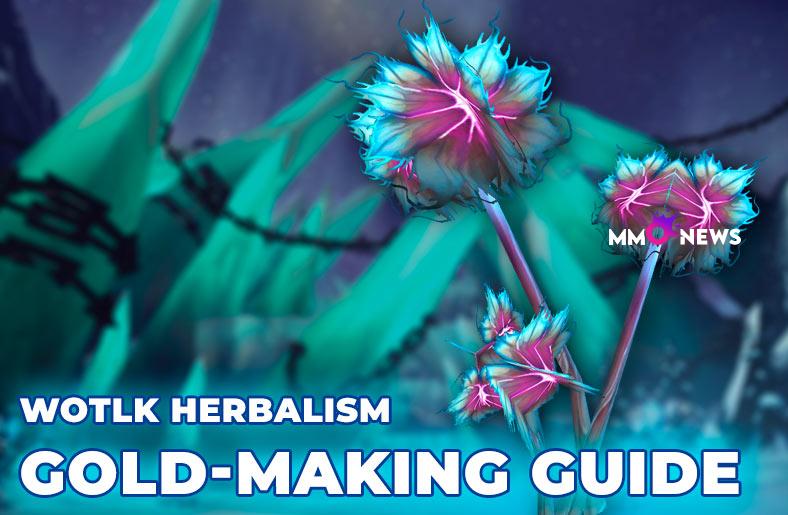 Herbalism isn't just about gathering plants and appreciating the beauty of Azeroth's flora. It's also a lucrative profession that, when approached strategically, can fill your coffers with gold. Here's a deep dive into turning your herbalism skills into a gold-making machine:
Know Your Market
Before you start selling, familiarize yourself with the server's economy. Prices can vary significantly between servers. Tools like the Undermine Journal provide real-time data on herb prices across various servers.
Peak Selling Times
Weekends and raid nights often see a surge in demand for herbs and potions. Gathering and selling during these times can fetch higher prices.
Bundle Your Herbs
Instead of selling herbs individually, consider bundling them in stacks of 20, 50, or even 100. Many crafters prefer buying in bulk, and you can often charge a premium for these larger stacks.
Diversify Your Offerings
Don't just focus on the high-end herbs. Lower-level herbs can also be in demand, especially from players leveling up their professions or crafting specific old-world recipes.
Watch Out for Rare Spawns
Herbs like Frost Lotus or Adder's Tongue can occasionally spawn in place of other herbs. These can fetch a high price on the auction house due to their rarity and use in high-end recipes.
Control the Market
If you have a significant stockpile of a particular herb and notice a shortage in the market, you can set higher prices. However, be cautious with this strategy, as it can sometimes backfire if other players undercut aggressively.
Pair with Alchemy or Inscription
Transforming your herbs into potions, elixirs, or glyphs can often be more profitable than selling raw herbs. Especially sought-after potions or flasks can sell for many times the cost of the raw materials.
Seasonal Demand
Certain in-game events or patches can spike the demand for specific herbs. For instance, new raid releases often increase the demand for flasks and potions. Keeping an eye on game updates can give you a selling edge.
Advanced WotLK Herbalism Techniques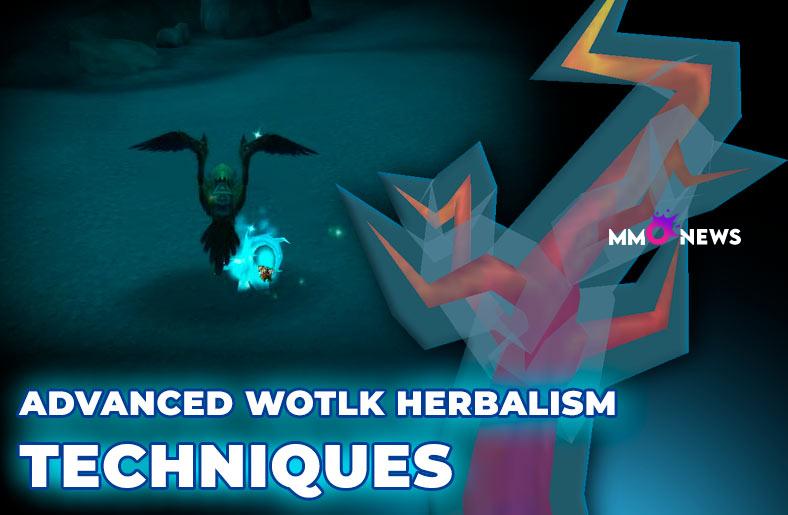 Mastering the basics of Herbalism is just the beginning. To truly stand out and maximize the potential of this profession, one must delve into advanced techniques and strategies. Here's a deep dive into some sophisticated methods that can elevate your Herbalism game in WotLK:
Biome-Specific Gathering
Each region in Northrend has a unique set of herbs. By specializing in one or two biomes, you can become an expert in gathering specific herbs, ensuring you always get the best quality and quantity.
Herb Rotation Cycles
Just like crops in the real world, herbs in Azeroth have growth and respawn cycles. By understanding these cycles, you can time your gathering sessions to coincide with peak respawn times, ensuring a constant supply.
Herb Quality Assessment
Not all herbs are created equal. Some might have higher potency, while others might be slightly wilted. Developing an eye for the best quality herbs ensures you gather the most valuable resources.
Efficient Storage Techniques
As you gather herbs, inventory management becomes crucial. Learn to organize your herbs efficiently, using specialized bags and categorization techniques. This not only saves time but also ensures you can quickly access any herb when needed.
Herb Preservation
Certain herbs, especially rare ones like Frost Lotus, can degrade over time. Research and implement preservation techniques, such as using special containers or alchemical methods, to maintain herb potency.
Dynamic Route Planning
While static routes (like those created with the Routes add-on) are great, sometimes dynamic route planning is needed. This involves adapting your path on-the-fly based on competition, herb availability, and other factors.
Herb Combination Techniques
Some crafting recipes require a combination of herbs. By understanding which herbs are often used together, you can gather them in tandem, saving time and increasing crafting efficiency.
Seasonal Gathering
Certain in-game events or seasons can affect herb availability. For instance, during the Winter Veil event, specific herbs might become more abundant. Capitalize on these seasonal changes to gather rare or high-demand herbs.
Networking with Other Herbalists
Building a network with fellow herbalists can be invaluable. Share tips, trade herbs, and even collaborate on gathering expeditions. Sometimes, two gatherers are better than one!
Continuous Learning
The world of Azeroth is ever-evolving, with new patches, expansions, and changes. Stay updated with the latest Herbalism trends, techniques, and changes by engaging with the community, reading patch notes, and practicing regularly.
WotLK Herbalism Farming Locations Guide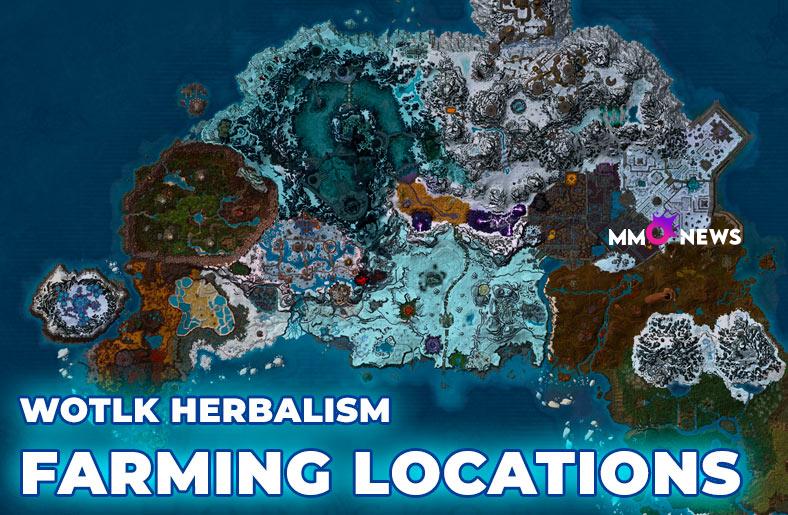 In the expansive world of Northrend, certain zones are teeming with specific herbs. Knowing where to find these herbs is crucial for efficient gathering. Here's a detailed breakdown of prime herb farming locations in the Wrath of the Lich King expansion:
Borean Tundra
Key Herbs: Goldclover, Tiger Lily, Adder's Tongue.
Description: A vast coastal plain, Borean Tundra offers a mix of herbs. The waterways and lakes are particularly rich in Tiger Lily, while the grasslands are abundant with Goldclover.
Howling Fjord
Key Herbs: Goldclover, Talandra's Rose.
Description: With its steep cliffs and deep fjords, this zone is a haven for unique herbs. The highlands are dotted with Goldclover, while the more secluded areas often hide the rare Talandra's Rose.
Dragonblight
Key Herbs: Lichbloom, Icethorn.
Description: Dominated by a vast central desert, Dragonblight's peripheries, especially near the Azure Dragonshrine, are rich in high-level herbs like Lichbloom.
Grizzly Hills
Key Herbs: Goldclover, Fire Leaf.
Description: The dense forests and serene rivers of Grizzly Hills are home to a diverse range of herbs. The riverbanks often yield Fire Leaf, a herb highly sought after by alchemists.
Zul'Drak
Key Herbs: Frozen Herb, Tiger Lily.
Description: This troll-dominated region, with its terraced levels and ancient ruins, hides herbs in its nooks and crannies. The Frozen Herb, unique to this zone, can be found near the Drak'Sotra Fields.
Sholazar Basin
Key Herbs: Goldclover, Adder's Tongue, Lichbloom.
Description: A lush tropical oasis, Sholazar Basin is a herbalist's paradise. The basin's rich ecosystem provides a diverse range of herbs, with the river deltas being particularly abundant in Adder's Tongue.
Storm Peaks
Key Herbs: Icethorn, Lichbloom.
Description: The towering peaks and icy caves of this zone are home to high-altitude herbs. Adventurous herbalists can find Lichbloom on the mountain ridges and Icethorn in the hidden valleys.
Icecrown
Key Herbs: Icethorn, Lichbloom, Frost Lotus.
Description: The heart of the Lich King's domain, Icecrown's icy wastelands and floating citadels are rich in high-level herbs. The rare Frost Lotus can sometimes be found near the Argent Tournament Grounds.
Wintergrasp
Key Herbs: Frozen Herb, Icethorn.
Description: This PvP zone, with its constant battles, might seem daunting, but it's a treasure trove for herbalists. The ruins and fortresses often hide valuable herbs, making it worth the risk.
Conclusion of WoW WotLK Herbalism Guide
Congratulations, you've now become a master herbalist in the world of Wrath of the Lich King! You've learned the ins and outs of Herbalism, discovered the best herb locations, and even how to turn your skills into gold. Whether you're an Alliance or Horde adventurer, this guide will serve you well on your journey through Northrend.
Remember, the key to becoming a master Herbalist in WotLK is patience and persistence. So, grab your gathering tools, venture into the lush landscapes of Northrend, and become the herbalist you were destined to be.