In the ever-evolving world of online gaming, World of Warcraft continues to reign supreme, captivating millions of gamers worldwide. The expansive realms of Azeroth keep players engaged with new challenges and adventures. And as every seasoned WoW player knows, staying ahead of the curve and maximizing your gaming experience requires some powerful tools. That's where Tamas Dragonflight Helper steps in, taking your gaming journey to new heights.
What is Tamas Dragonflight Helper?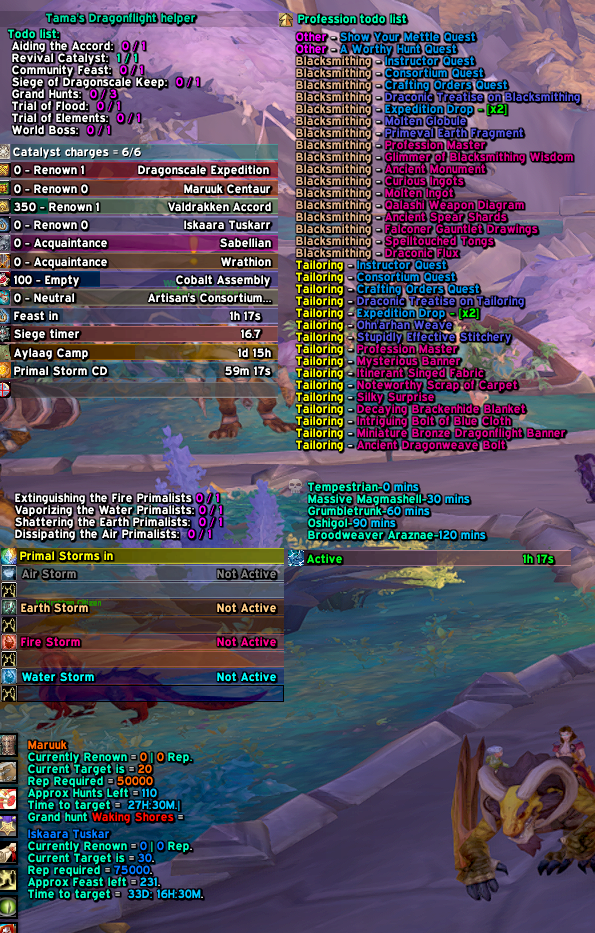 Tamas Dragonflight Helper is a game-changing utility designed specifically for WoW enthusiasts who are diving deep into the thrilling realm of Dragonflight. If you've ever wondered how to streamline your gameplay, optimize your strategy, and unlock the full potential of Dragonflight, you're in for a treat. Tamas Dragonflight Helper is the successor to the beloved Zereth Mortis helper and offers a comprehensive set of features to enhance your World of Warcraft experience.
How Does Tamas Dragonflight Helper Work?
Understanding how Tamas Dragonflight Helper works is crucial to harnessing its power to the fullest. This versatile tool is a game-changer in the world of WoW, and here's a detailed breakdown of its features and functionalities:
Version 4.9: A New Dawn in WoW Gaming
Tamas Dragonflight Helper is continually evolving, and with Version 4.9, it has undergone a significant transformation. Whether you're already using its predecessor or new to the Dragonflight world, we highly recommend a clean installation of the Tamas Dragonflight Helper. This update includes a comprehensive overhaul of various components and their configurations. Starting fresh will enable you to access a range of exciting new features.
Beta Testing of Crafting Module in Tamas Dragonflight Helper
One of the standout features of Version 4.9 is the introduction of the beta version of the crafting module. This module allows you to explore and experiment with different professions, providing a sneak peek into the exciting world of crafting. The best part? You can move this module independently of your to-do list, ensuring that you focus only on the professions that align with your character's specialization. While the module currently leans towards one-time knowledge, rest assured that weekly professional features are in the works, promising a well-rounded gaming experience.
Unprecedented Customization
Tamas Dragonflight Helper offers you complete control over your gaming interface. Every element can be toggled on or off to suit your preferences. Dive into the main group settings and venture into the "Display" tab, where you can transform the dark mode of "World State Score" into a range of other bar settings, including a mesmerizing "Empty" option for a transparent look. To ensure your settings are saved, remember to reload your interface after each adjustment.
Rare Tracking Made Easy

Finding and tracking rare creatures in the World of Warcraft universe has never been simpler. Tamas Dragonflight Helper permits you to personalize the display of each rare, allowing you to decide whether to show them based on your character's current class or keep them visible regardless of your class. The intuitive interface simplifies rare tracking, making it a breeze to locate these elusive creatures and reap the rewards they offer.
Rare World Marking at Your Fingertips
Efficiency is key in WoW, and Tamas Dragonflight Helper takes it seriously. With a few simple clicks, you can add Blizzard waypoint markers to rare creatures by shift-left clicking on their icons. Conversely, shift-right clicking clears waypoints, ensuring you stay organized and on top of your gaming goals. Additionally, you can print loot lists by using CTRL-left click on the icons, making inventory management a breeze.
Rare Bar Color Coding of Tamas Dragonflight Helper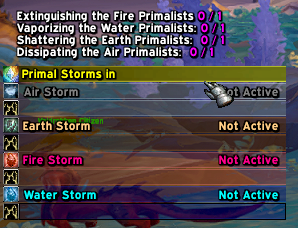 Tamas Dragonflight Helper employs a color-coded system to help you identify the status of rare creatures at a glance. Green text signifies that a rare is undefeated and present in your current zone. Conversely, the red text indicates that a rare has been defeated. White text denotes rares that are neither in your current zone nor defeated. This intuitive system keeps you informed and in control of your gaming experience.
Rare Loot Display and Drops in Tamas Dragonflight Helper
The excitement of looting in WoW is unparalleled, and Tamas Dragonflight Helper amplifies this facet of the game. All currently included rares are set up to show their loot only if it pertains to your character's class (not specialization). However, you have the freedom to override this setting by selecting "always show" in the options for a specific rare. Be cautious not to click the "reset to defaults" button when the rare list is included, as it will erase all configured rares.
Event Timers: Precision and Reliability
Staying informed about in-game events is crucial for WoW success. Tamas Dragonflight Helper pulls server-side data specific to your local region, ensuring accurate and reliable event timers. Moreover, it allows for a variable offset, granting you fine-tuned control over event tracking. You'll never miss a critical event again.
Reputation Bars: Customize Your Progress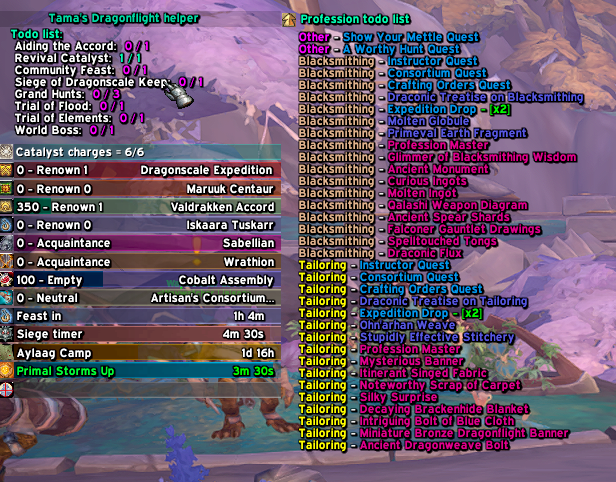 For many WoW players, reputation is a top priority. Tamas Dragonflight Helper simplifies tracking your reputation progress by enabling the default display of the four main renown bars. However, the power is in your hands, as you can toggle all reputation bars on or off in the custom settings. This flexibility guarantees that you always concentrate on the game aspects that are most important to you.
A Word from the Developer: Passion and Dedication
Tamas Dragonflight Helper is a labor of love, crafted by a dedicated gamer who understands the intricate balance between real-life responsibilities and the desire to excel in the World of Warcraft universe. The developer's commitment to delivering an exceptional gaming experience shines through every update and feature. While updates are in the pipeline, they can't provide a precise timeline, as they juggle their work, family, and gaming commitments.
The Road Ahead: Exciting Updates to Come
Tamas Dragonflight Helper is far from reaching its full potential. With Version 5 on the horizon, players can look forward to several exciting additions:
Professions Knowledge Module (Beta): Currently undergoing testing, this module promises to enhance your understanding of professions, offering valuable insights into the world of crafting and specialization.
One-time Treasures: Discover hidden treasures that offer unique rewards and enrich your gaming experience.
Profession Masters and Treatises: Dive deep into professions with the introduction of profession masters and treatises, adding depth to your crafting journey.
Profession Weekly Quests: Weekly quests will keep you engaged and provide opportunities to further develop your character's professions.
Brakenhollow Timers: We will add test versions for Brakenhollow timers to ensure you never miss a critical event.
Primal Invasion Timers: Stay informed about Primal invasions, ensuring you're always prepared for action.
Primal Invasion Boss Kill Tracking: Keep tabs on your progress by tracking boss kills during Primal invasions.
Current Zone-Only Option for Rare Creatures: Customize your rare tracking experience by focusing only on the creatures in your current zone.
Event Timer Reporting to Chat (Guild/General): Share event timer updates with your guild or general chat, fostering teamwork and camaraderie.
Fishing Dailies: Dive into the world of fishing with dedicated daily timers and activities.
Fishing Net Timers: Master the art of fishing nets and optimize your fishing gameplay.
Renown Grind Calculators: Plan your path to renown success with calculators that help you determine the number of hunts, keys, or feasts required to achieve your renown goals.
Quality of Life (QoL) Features: Tamas Dragonflight Helper is dedicated to enhancing your overall gaming experience through various quality-of-life improvements.
Your Contribution Matters
As a dedicated gamer, the developer of Tamas Dragonflight Helper understands the importance of striking a balance between gaming, family, and work commitments. Your understanding and support mean the world, as it enables the continued development of this incredible tool that enhances the World of Warcraft experience for countless players.
Join the WoW Community: Experience the Difference
Tamas Dragonflight Helper is a testament to the incredible World of Warcraft community, a community that consistently demonstrates support, collaboration, and a passion for immersive gaming experiences. Every donation, translation, code sample, and piece of feedback contributes to making WoW a more exciting and engaging world.
Discover More Dragonflight Projects
Tamas Dragonflight Helper is just one of many exciting Dragonflight-related projects by the developer. Explore these additional resources to enhance your WoW journey:
Raider Guide to Dragonflight: For comprehensive information about the expansion, consult the Raider Guide to Dragonflight. This resource provides valuable insights into the ever-evolving world of WoW.
1-70 Leveling Pack: Get ready for Dragonflight with Tamas's 1-70 Leveling Pack, specially designed to prepare you for the challenges that lie ahead.
Dragonflight Dungeons: Access a complete set of Dragonflight dungeons, including Normal, Heroic, and Mythic modes.
Dragonflight Raid: Dive into the Vault of the Incarnates, a thrilling Dragonflight raid experience that will push your skills to the limit.
Dragonflight Class: If you're a Brewmaster Monk, explore Dragonflight Monk BrM for class-specific insights and enhancements.
In Conclusion Tamas Dragonflight Helper
Tamas Dragonflight Helper is more than just a utility; it's a testament to the boundless creativity and dedication of the World of Warcraft community. With its powerful features, customization options, and the promise of exciting updates on the horizon, it's a must-have for any WoW player seeking to elevate their gaming experience. Thank you for your support, and may your Dragonflight adventures be legendary!