Are you delving into the world of New World, eager to become a master miner and make a fortune from your findings? Look no further! In this comprehensive guide, we'll uncover the secrets of New World Mining Level Up efficiently and share the best mining spots to fill your pockets with precious ores. Whether you're a newcomer or an experienced miner, you'll find valuable tips and routes to help you become a mining expert in New World.
How to Level Up Mining Skills in New World?
Before we set off on our journey to uncover the most lucrative mining locations, let's dive into the intricacies of mining within the world of New World. This dynamic realm presents a mining experience that is far from straightforward. Veins and boulders exist in a spectrum of sizes, ranging from small to medium and large, and this size differential holds significant importance. The yield you obtain and the accumulation of mining skill points are contingent upon both the resource type and the size of the vein or boulder you are extracting.
You may now be wondering: What constitutes the optimal approach to leveling up your mining prowess in New World? The solution lies in focusing on mining ores aligned with the current tier level. However, do prepare for the likelihood of encountering scarcity in these ores, particularly during peak gaming periods. To maximize your efficiency, adhering to strategic mining routes becomes paramount, and we will delve deeper into this aspect later in this guide.
Efficiency stands as the linchpin of successful mining endeavors, given that each vein vanishes once another player successfully mines it. The time it takes for these nodes to respawn is notably longer when compared to the rapid respawn rate of monsters in the game. Nevertheless, here's a valuable tip: should you happen upon another player's mining site, you can seamlessly continue their progress and reap the rewards, provided they cease their mining activities.
Dangers of New World Mining Level Up
It's crucial to bear in mind that mining is not devoid of its perils. Encounters with monsters or other players, especially when flagged for PvP, can disrupt your mining operation. However, if you persist, any progress you've made will be retained when you cease mining. This feature proves particularly invaluable when mining high-value ores, as there may be opportunists seeking to pilfer your precious loot while your attention is otherwise occupied.
Mining Tips for Progressing
Now that you have a grasp of mining mechanics, let's discuss how to level your mining skill from scratch. Starting from the beginning might seem daunting, but don't worry we've got you covered.
If you're starting with a mining skill level of ten, consider exploring Inkwell Caves for New World Mining Level Up. Hunt for Silver Ores until you reach level 20 or 45, and be sure to mine every boulder along the way, as they also contribute to your mining skill points.
To give you an idea of the time investment, it took me roughly 10-20 minutes to progress from level 5 to 20 by focusing on mining boulders. Pushing from level 20 to 45 took about 3 hours, still mining boulders but with the added benefit of leveling up other resources efficiently.
While it may be tempting to focus solely on boulders and veins, diversifying your resources is the better strategy for leveling up your mining. Traverse the highlands, explore caves, and scale mountains. Don't underestimate the mountains they often hide valuable veins that can significantly expedite your mining skill development.
But be cautious when navigating mountainous terrain, as you might encounter sticky situations. Knowing how to free yourself when stuck can be a lifesaver.
Once you attain a mining skill level of 30, it's time to shift your focus towards harvesting Silver Ores and Oil, all while making sure to collect any available resources on your path. As you approach the mining skill levels of 45 and 50, set your sights on Gold Ores and Alchemy Stones, ensuring that you mine every vein you come across.
Little Lifehack
For newcomers starting from scratch, head over to the region rich in Iron Ores, situated in the lower-left section of Windsward on the highlands. Make effective use of the map (by pressing "M") and the resource location tab to pinpoint your destination, and consider tackling some quests during your mining expedition. This dual-purpose strategy enables you to simultaneously boost your trade skills while efficiently accomplishing missions and quests.
Do not underestimate the valuable experience you can gain from gathering. When I committed to mining boulders and low-level veins from levels 30 to 45, I managed to advance an entire skill level solely through gathering, without the need to complete additional quests or missions.
The Best Mining Route in New World
Now that you've become well-versed in mining strategies, let's delve into the ultimate mining route tailored for those with mining skill levels of 45 or higher. This meticulously crafted route offers a treasure trove of opportunities, including more than 20 Silver Ore nodes, over 10 Gold Ore nodes, a couple of Iron Ore nodes, and a sprinkling of Starmetal Veins. What's more, you'll stumble upon supply crates, level 25-28 Lynxs ripe for elimination and skinning, and Soulsprouts to harvest. This location undoubtedly claims the title of the finest spot for advancing your mining skills in New World.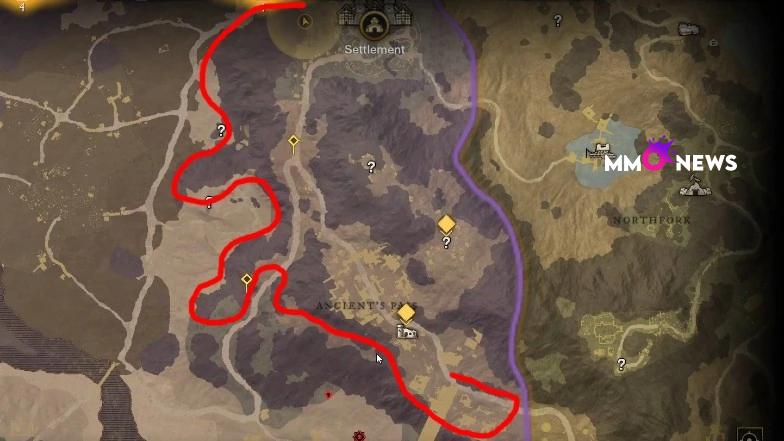 Before embarking on this mining odyssey, a few preparations should be in order. Ensure that your weight capacity exceeds 300, as you'll be accumulating a substantial haul of resources. Equipping at least a Steel Mining Axe is essential for maintaining efficiency, as lower-tier tools can significantly hamper your Gold Ore mining pace.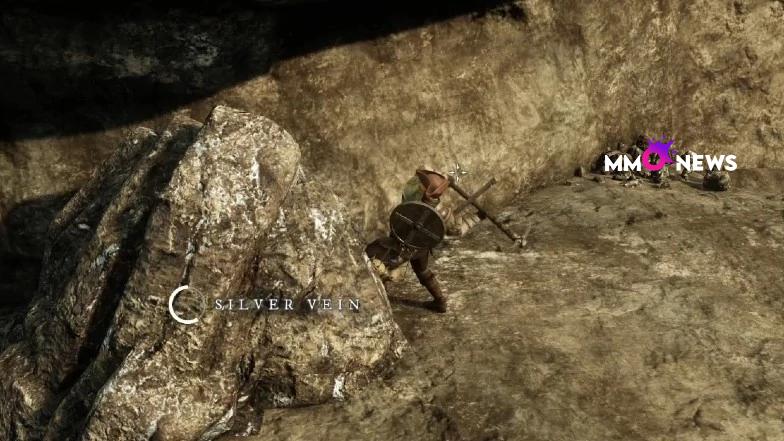 To commence this mining expedition, begin by stashing your items in the Cutlass Keys settlement. Then, head westward, and stick closely to the mountainous terrain. Most resources are found atop the mountains, so hugging the mountainside is paramount. Keep your eyes peeled for resource spawns as you progress along the prescribed route.
Senond Places for New World Mining Level Up
Continue along this path, and soon enough, you'll encounter the coveted Gold Vein sites. Even when the ascent appears daunting, stay steadfast along the mountainside, for the route will eventually guide you to a cave known as Brighteye Den. Within its depths lie five Silver Veins awaiting your mining expertise. Be vigilant for the elite mob at the cave's center; you can evade it by skirting the cave's corner.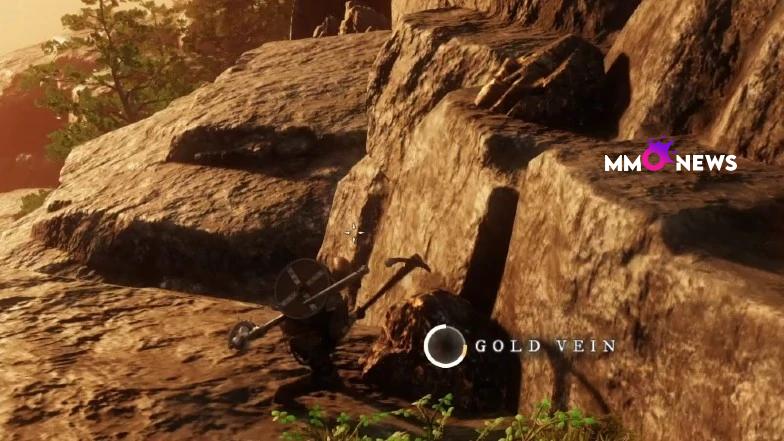 Upon completing your mining endeavors within Brighteye Den, exit the cave and persist in tracing the mountainside. Eventually, you'll reach a road, as indicated on the provided route. Cross the road and proceed to the backside of Ancient's Pass, where a multitude of Gold Vein spawns await your exploration.
Carry on following the path until you reach the conclusion of this mining journey. By this juncture, your inventory should weigh above 350, though this may fluctuate based on the presence of other players gathering nodes along the route. Restarting or cycling through the route can be a challenge, as it culminates in a dead-end. You have several options at this juncture: either recall to the inn in Cutlass or make the journey back to the settlement, deposit your loot, and commence the route anew. Alternatively, you can leverage the return journey to complete quests or missions, thus optimizing your overall efficiency.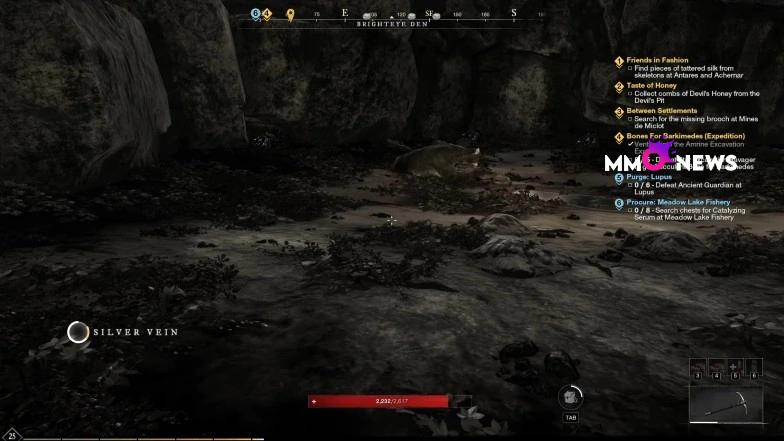 This meticulously designed mining route is strategically crafted to yield the highest concentration of Silver and Gold Ore spawns in the shortest time frame. It is ideally suited for characters at level 25 and beyond, ensuring accessibility for the majority of players.
Upgrading Your Mining Tools
Now that you're on your way to becoming a mining virtuoso, consider the importance of upgrading your mining tools. Upgraded tools can shave precious seconds off your mining times, ultimately leading to a more efficient leveling process. While the improvements may seem minor individually, they add up significantly during extended mining sessions.
It's advisable to upgrade your mining pick whenever you have access to new resources that allow you to craft better tools. As you gather higher-quality ores, your mining tools will improve accordingly. The enhanced durability of better tools can transform the grinding process from tedious to tolerable.
Gathering Territory Perks of New World Mining Level Up
Boosting your gathering speed is another crucial aspect of leveling your mining skills effectively. Territory rewards play a significant role in achieving this goal. You can increase your gathering speed by enhancing your standing with the territory you inhabit. This can be achieved by consistently completing town missions as they become available.
While this method may require a long and tedious grind, it's wise to focus on a single settlement that offers a substantial gathering bonus. The gathering speed bonus is stackable and accumulates with each territory reward you earn. Although it may seem like a minor improvement, it becomes invaluable when you're mining hundreds or even thousands of ores during your leveling journey.
Final Thoughts on New World Mining Level Up
As you continue your journey in New World, keep in mind that prices for ores and resources may fluctuate as the game progresses. To maximize your profit potential, stay vigilant and adapt your mining strategy to the evolving market conditions. As the game matures and higher-level players emerge, the value of low-level ores may decrease, so exercise caution and strategic planning when selling your resources.
When it comes to leveling your mining skill quickly, prioritizing efficiency over speed can be a wise choice. By efficiently covering a wide range of content within the game, you'll not only become a formidable miner but also a well-rounded adventurer. So, equip your mining pick, prepare your gear, and venture forth into the captivating world of New World, where riches await those who dare to dig deep.