Welcome to the mystical realm of the New World, where adventurers seek fortune and fame in the untamed wilderness. In this guide, we delve deep into the enigmatic Lazarus Instrumentality Expedition, providing you with essential information to conquer its challenges and reap the rewards it holds. If you've ever wondered, "How do I get to Lazarus New World?" or "What is the gear score for Lazarus in New World?" – look no further, for we are about to embark on an unforgettable journey.
Location, Entrance, and General Information
Our quest begins in the perilous north of Reekwater, where the Lazarus Instrumentality Expedition awaits. Recommended for those intrepid souls at level 60, this is the endgame challenge you've been yearning for. As a dedicated adventurer, your goal is to raise your expertise to 600, and Lazarus is the perfect means to that end. Here, you'll uncover a plethora of valuable drops and the coveted Sapphire Gypsum.
To access this remarkable expedition, seek out the entrance concealed within the arch, as pictured below:
Enemy Type
Lazarus Instrumentality is a realm inhabited by Ancient foes, each with their unique strengths and weaknesses. To emerge victorious, you must be well-prepared. Strike, Lightning, and Void damage are their Achilles' heels, so arm yourself accordingly. Beware, for these foes have a resilience to Slash and Fire damage. Weapons that deal Strike or Lightning damage will be your greatest allies on this perilous journey. You can enhance your damage output with Infused Ancient Coatings, though it's wise to save them for challenging encounters. Be warned, the final boss defies categorization, immune to extra damage or resistance.
Repeatable Quests
Upon reaching level 58, you can start receiving Expedition faction missions from Reekwater. Unfortunately, there are no other repeatable quests for this Expedition at this time.
Layout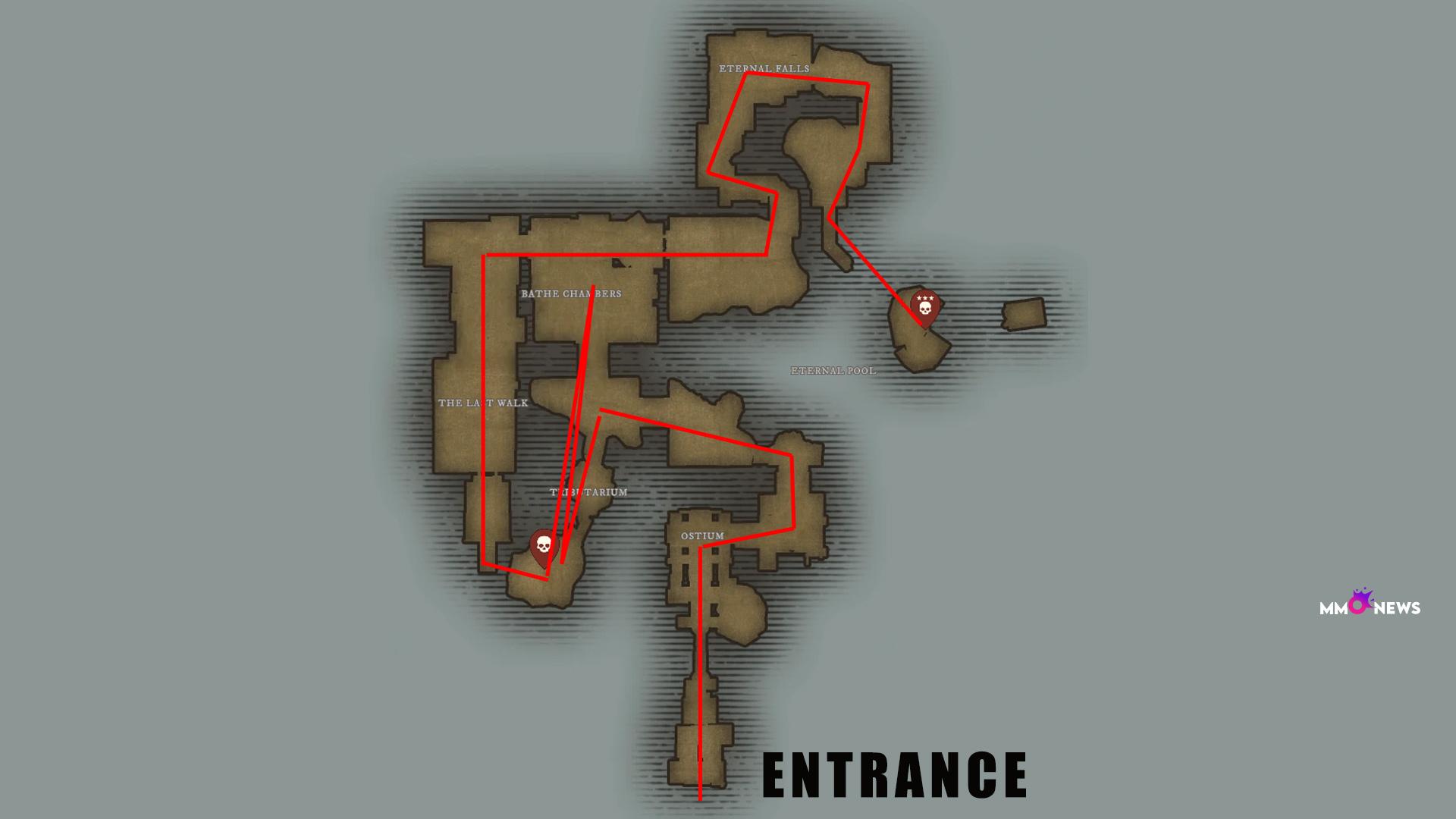 Navigating Lazarus Instrumentality may seem straightforward, but challenges await. In the first major room, you'll encounter a puzzle, but fear not; our Puzzle section will guide you through it. As you progress, you'll meet Cilla, a non-aggressive NPC who has an unusual request. Engaging with Cilla spawns two packs of formidable monsters, including a mage-type mini-boss with devastating area-of-effect abilities. Dispatch these threats and advance north into the Bath Chambers.
Within the Bath Chambers, you'll encounter the Purified Azoth Pool, which must be activated to cleanse yourself. Conquer the newly spawned enemies in the room, then return to Cilla to prepare for your first boss battle. After vanquishing Cilla, utilize the teleporter pad on her platform to access the next section of the Expedition.
In a long room with three ground buttons, you'll face a crucial test. Activating all three buttons simultaneously seals the room, initiating a gauntlet. For two minutes, hordes of monsters will assault you from portals in the three sections. Coordinate with your team; assign a Tank, Healer, and DPS players strategically. Upon surviving this trial, proceed through the Bathe Chambers, confronting two new elite adversaries before reaching the teleporter that transports you to the final boss arena.
Trash Monsters in New World Lazarus
Within Lazarus Instrumentality, you'll encounter several Ancient foes, each with its unique characteristics:
Archer
Ranged and predictable, Archers are formidable adversaries. Prioritize them as DPS players, and Tanks should draw other foes near the Archers for efficient area-of-effect damage. Be cautious, as Archers can pose a significant threat to Healers if left unchecked.
Avenger
Sword-wielding Avengers deal moderate damage and should be engaged by Tanks. However, they are not high-priority targets for DPS players.
Defender
These ground crawlers may appear unassuming, but their damage output is substantial. Tanks should divert their attention, while area-of-effect damage can swiftly eliminate them.
Javelineer
Spear-wielding Javelineers are agile and lethal foes, capable of dealing substantial damage both at range and in melee combat. Tanks should focus on them, and DPS players must eliminate them promptly, even if it means giving chase.
Taskmaster
Spear and shield-wielding Taskmasters are remarkably resilient and can still deliver significant damage. Tanks should aggro them, though they are not a top priority for elimination.
Reaver
These dual-wielding swordsmen are exceptionally mobile and can inflict considerable damage as they charge around the room. Prioritize them for Tank engagement, and ensure DPS players deal with them swiftly to avoid chaos.
Bosses on New World Lazarus
Prepare yourself for the two formidable bosses that Lazarus Instrumentality holds: Cilla and Chardis. In expeditions, you have only one chance to be revived when downed, so tread carefully and plan your strategy wisely. Most boss rooms seal off the entrance once the battle commences, granting you only two lives in the encounter.
Cilla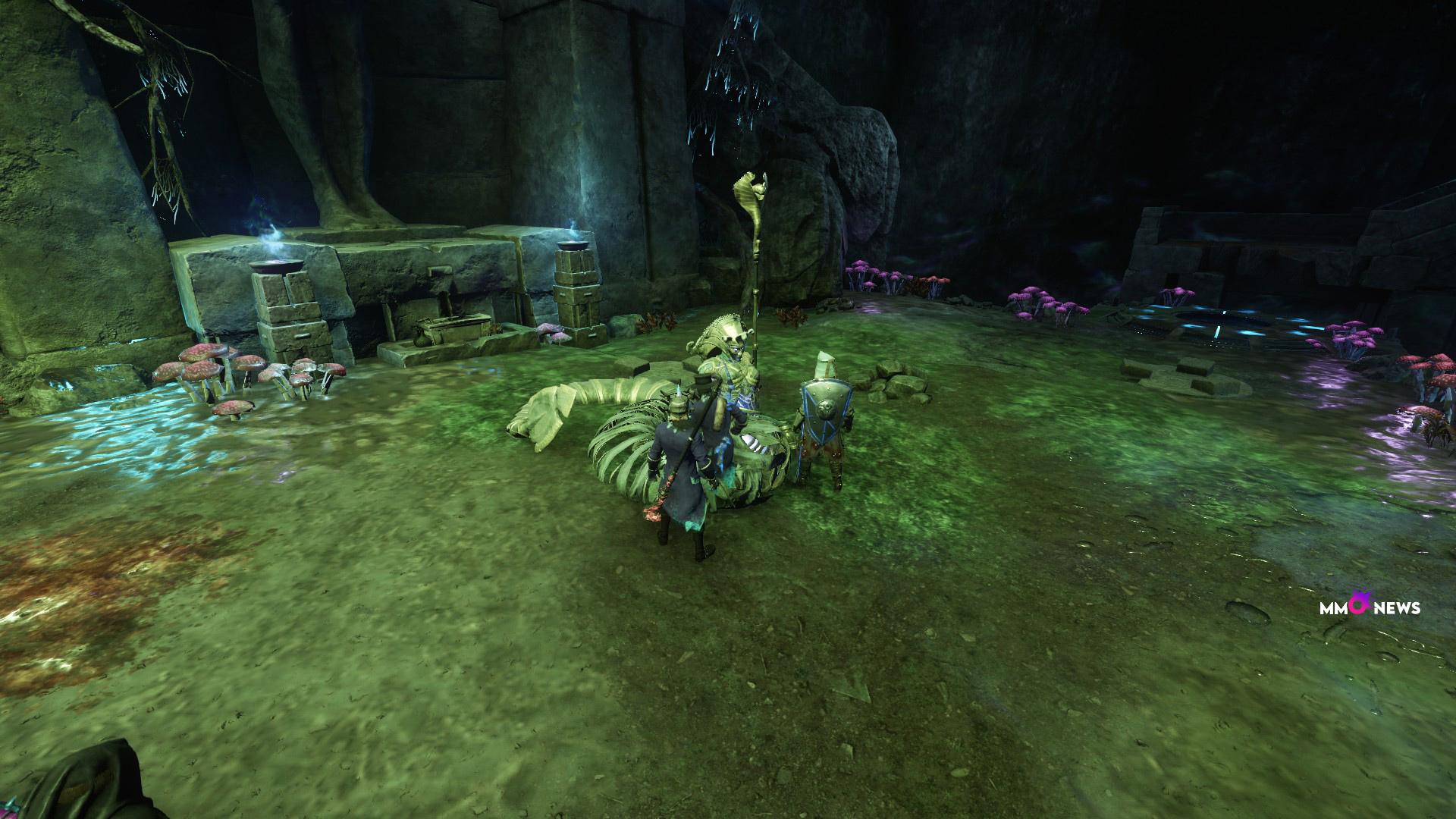 Cilla is a boss of dualities, shifting between physical and magical modes with distinct mechanics. Her irregular hitbox can be particularly challenging for melee fighters.
Abilities
Physical Mode: Cilla begins the battle in this mode, accumulating a stacking damage-over-time buff. She employs the following abilities:
Spear Throw: Cilla hurls her spear at a distant player, dealing significant damage and knockback. Avoid this attack and steer clear of the arena's edges to prevent falling into the water.
Magic Mode: Activated by player interaction with orbs, Cilla transforms. She loses her physical mode damage stacks, gains magic stacks, and deploys the following arcane abilities:
Arcane Rend: Activating an orb applies a debuff to nearby players, increasing their vulnerability to Arcane damage.
Staff Shot: Cilla targets a player from range, firing a series of magical staff shots. Dodge these shots, as their cumulative damage can be deadly.
Arcane Orbs: Floating orbs appear, causing damage and rooting those who traverse them. Avoid these orbs, as combining them with other abilities can lead to swift defeat.
Arcane Bombs: After a brief delay, Cilla summons arcane bombs on each player. The bombs' area-of-effect is indicated by a surrounding circle. Evade these explosive threats.
Arcane Wave: Cilla slashes her spear sideways, releasing a rolling wave of arcane damage. Dodge this devastating attack.
Orb Charge: Cilla charges forward, leaving a trail of Arcane Orbs in her wake.
Strategy
To triumph over Cilla on New World Lazarus, coordination is essential. The Tank should position themselves in front of Cilla immediately, drawing her attention. Melee DPS players should engage from the rear, while ranged DPS and the Healer should spread out near the small circles on the ground where orbs will spawn.
Cilla's damage output escalates as her stacks increase, so activating the first orb promptly is vital. Cilla will accumulate roughly ten physical stacks by the time the first orb spawns, and her attacks will become devastating. Therefore, reserve Tank and Healer cooldowns for this phase.
After triggering the first orb, Cilla may continue her onslaught for a brief period before rushing to the orb's location, losing her physical mode stacks, gaining a magic stack, and transitioning to magic mode. As she employs her full array of magical abilities, the team should congregate on one side of the room to handle incoming threats. Beware of Arcane Bombs, and be prepared to dodge or block, especially after their explosion.
Once you are acquainted with Cilla's abilities, the battle becomes a test of avoiding damage, activating orbs before her stacks exceed ten, and maximizing your damage output.
Charges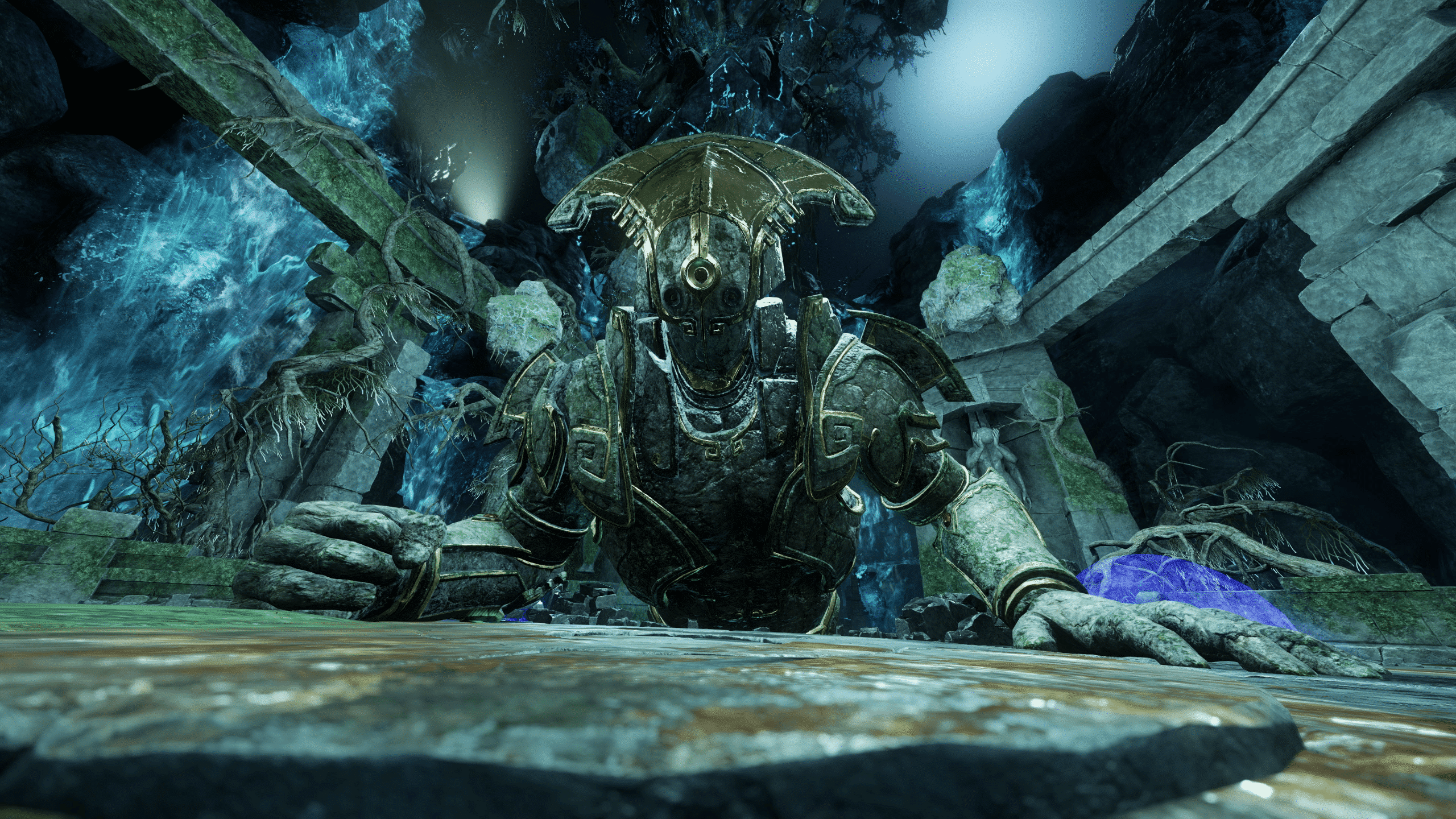 Chardis is the final boss of the Expedition, a unique entity that lacks vulnerability to any particular damage type. This colossal golem or statue must be faced head-on.
Abilities
Chardis's abilities are relatively straightforward but pack a punch:
Hand Attacks: Chardis slams his hands onto the platform and sweeps his arms in various patterns.
Purifying Laser: Chardis fires a laser at a player, which persists until the player redirects the beam through a floating orb or succumbs to its power.
Purification Field: Chardis's laser targets the platform, disabling one of the orb pillars and inflicting damage over time in the affected area.
Strategy
The encounter with Chardis is unique, as he doesn't focus on a primary target. Instead, it's a DPS race. At the outset of the battle, two orbs are surrounded by energy shields on each side of Chardis. Destroy the shields and acquire an orb by running through it, then place it on one of the two designated circles on the ground. This readies the orb for use during the laser attack. Generally, you will only need the right-side orb and circle because the left side will be destroyed at 66% health.
Chardis will begin firing a laser at a player, who must swiftly guide the beam through one of the prepared orbs. This causes Chardis to temporarily become vulnerable, allowing your team to deal significant damage. When Chardis reaches 66%, he destroys the left-side orb circle, creating a hazardous area of damage to avoid.
Continue your DPS efforts and evade Chardis's hand attacks until he reaches 33%. At this point, he destroys the right-side circle, further increasing the area of damage. It becomes a race against time to defeat Chardis before he recommences his laser attack, as there are no more orbs to interrupt it. The afflicted player must strive to stay alive during the laser phase, using potions and abilities while dealing as much damage as possible. Healers may need mana potions during this phase to maintain their abilities.
Due to Chardis's relatively low damage output, your group should prioritize dodging. Consider having your Healer focus on damage output with a skill like Void Blade. At the start of the battle, destroy both orbs, with a team member grabbing each one. Place one orb immediately on the left side of the room. Focus on damaging the boss until the laser phase.
Puzzles in New World Lazarus
Lazarus Instrumentality holds only one significant puzzle, encountered in the first major room.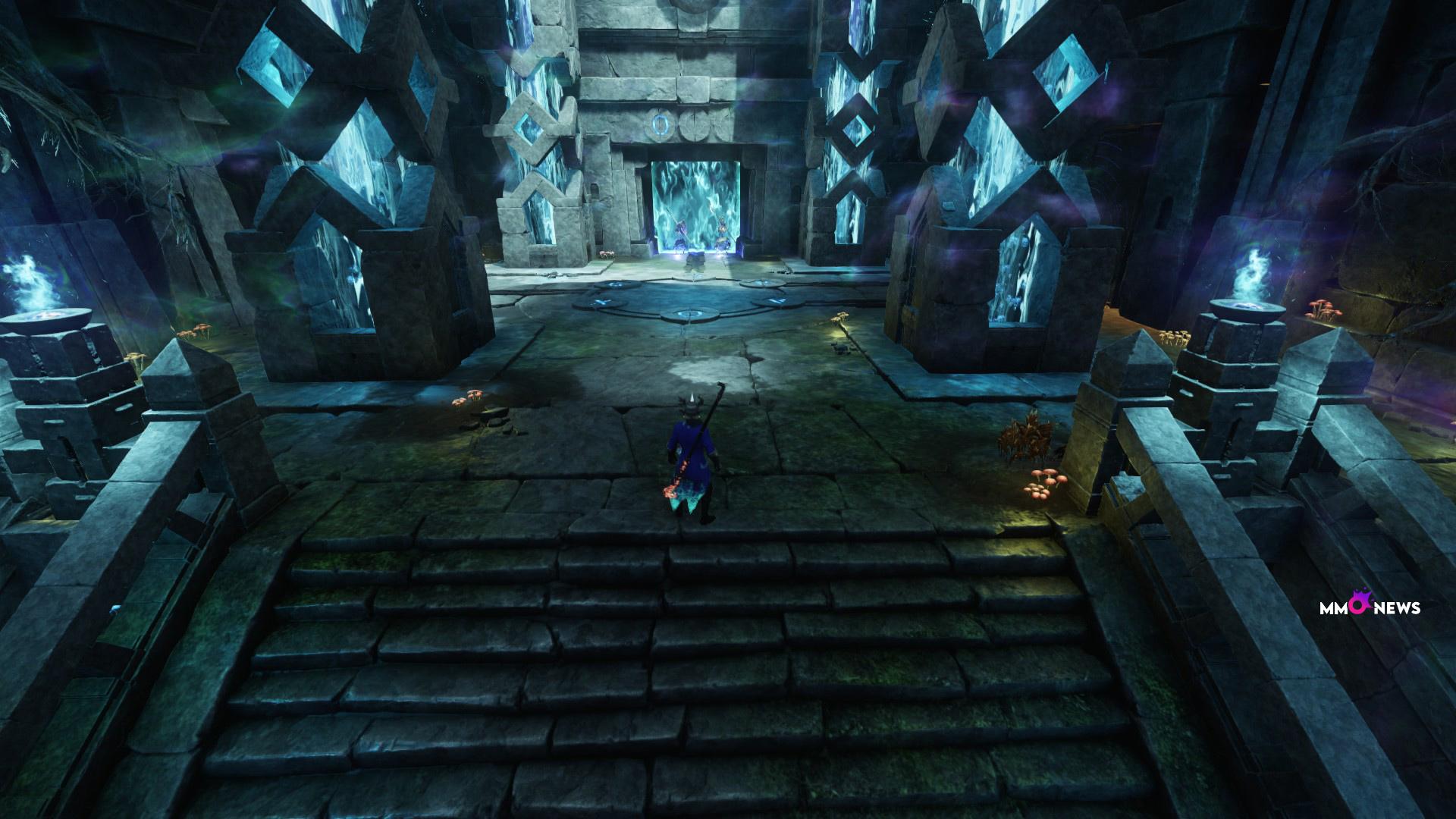 Portal Glyph Puzzle
As you approach the puzzle, monsters will spawn just outside a portal door. Throughout this puzzle, foes will continue to emerge from this portal and another closed portal on the left wall. In the middle of the room, you'll find a circle on the floor with six smaller circles around it, each assigned a randomly generated glyph.
Above the portal doors, you'll see circles either displaying glyphs or remaining blank. Stepping on these glyphs will attempt to lock them in, either successfully matching the glyph above the gate or spawning more foes if unsuccessful. Be cautious not to unintentionally stand on glyphs until your group is ready to face additional enemies.
For this puzzle, the Tank should aggro the pack and position them against the portal wall. Melee DPS players should engage these monsters near the portal to prevent them from wandering. Ranged DPS and the Healer should maintain distance and avoid standing on the circular glyphs in the room's center. Briefly crossing a glyph is acceptable, but extended contact can be problematic.
Once the initial enemy group is vanquished, have one team member stand on the matching glyph. White rings will gradually form on the small circle until the glyph locks in, summoning the next wave of monsters. After locking in the third glyph on the right portal, it will close, and the left portal will open, releasing another set of foes.
Loot Drops
Lazarus Instrumentality promises bountiful rewards for daring adventurers, with loot tailored for endgame players. Named items with a gear score of 590 can be upgraded to their coveted 600 gear score variants. The Spectral Dust and Metallic Boneweave you acquire here will allow you to craft powerful armor and weapons, each possessing preset attributes, streamlining your crafting process.
Prepare to discover the following treasures:
Will of the Ancients
Divine Devotion
Sol
Final Respite
Archaeologist's Armored Flintlock
Ancient Intentions
Cold Claw
Parry
Voidsword
Curiosity, Greed
Smooth Bone Ring
Frostgrasp
Lazarus Bow
Black metal Stud
weaponmaster's Chosen
Featherweight Ring
The Chain of Zane
Hoop of The Cursed Son
Enchanted Earring
Guardian's Ire
Fury
Lazarus Bow
Spectral Dust
Metallic Boneweave
Heartrune in New World Lazarus
Heartrunes are coveted treasures that can be acquired by completing an Expedition. The final boss has a high chance of dropping the Minor version, which can then be upgraded into its legendary variant.
Minor Heartrune of Stoneform
Prepare yourself, adventurer, for New World Lazarus holds many secrets and treasures that await brave souls like you. As you venture forth into this Expedition, remember the knowledge you've gained here, and may your journey be both prosperous and victorious.