The virtual realms of Aeternum are on the cusp of an incredible transformation, as they stand poised to face the relentless onslaught of a new, malevolent force. Are you ready to know the New World Addon Release Date? It is a momentous occasion for fans and players of Amazon Games' New World, as the game is about to embark on an exciting new chapter with its first major paid expansion, titled "Rise of the Angry Earth."
In this exclusive exploration of the highly anticipated expansion, we will not only unveil the release date for "Rise of the Angry Earth" but also provide a comprehensive overview of the new content and updates that eager adventurers can expect to encounter in this immersive gaming world.
New World Addon Release Date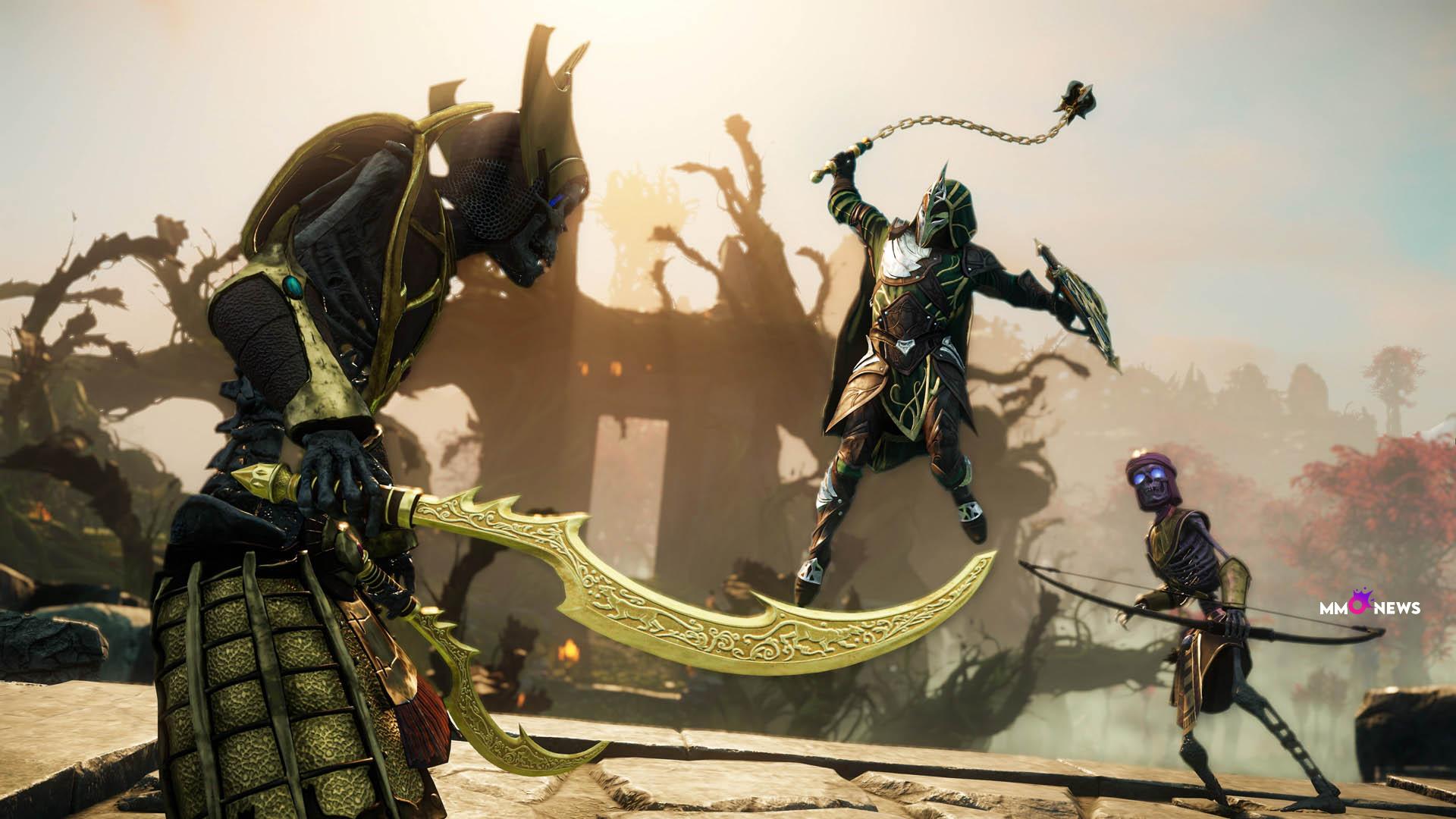 Mark your calendars and gear up! The "Rise of the Angry Earth" expansion for New World is set to launch with resounding vigor on the gaming scene on October 3, 2023. The countdown has begun, and the wait is almost over. In just a few short weeks, players will have the opportunity to dive headfirst into an expanded Aeternum, brimming with fresh challenges and experiences.
Paid Content and Updates
Before we delve into the heart of the expansion's offerings, it's worth noting that "Rise of the Angry Earth" will be available for purchase at a price point of USD 29.99, offering players a wealth of exciting additions and enhancements to their New World adventures.
New Story Quests: Uncovering the Mysteries of Fallen First Light
One of the most exciting facets of this expansion is the introduction of a brand-new series of story quests that will immerse players even deeper into the game's rich lore. As Aeternum reels from the chaotic influence of the Beast Lords and their formidable earthly powers, players will embark on an epic journey to uncover the truth behind the fall of First Light, once a tranquil and thriving zone.
Venturing beyond the barrier that now shrouds First Light, you will unravel the mysteries that have befallen this once-peaceful area and play a pivotal role in shaping its future.
New World Addon Release Date: New Zone
First Light, forever changed, has given rise to the Elysian Wilds—a southeastern region of Aeternum that promises untold adventures and untamed landscapes. Prepare to explore this captivating new environment and discover the secrets it holds.
Mounts: Conquer Aeternum in Style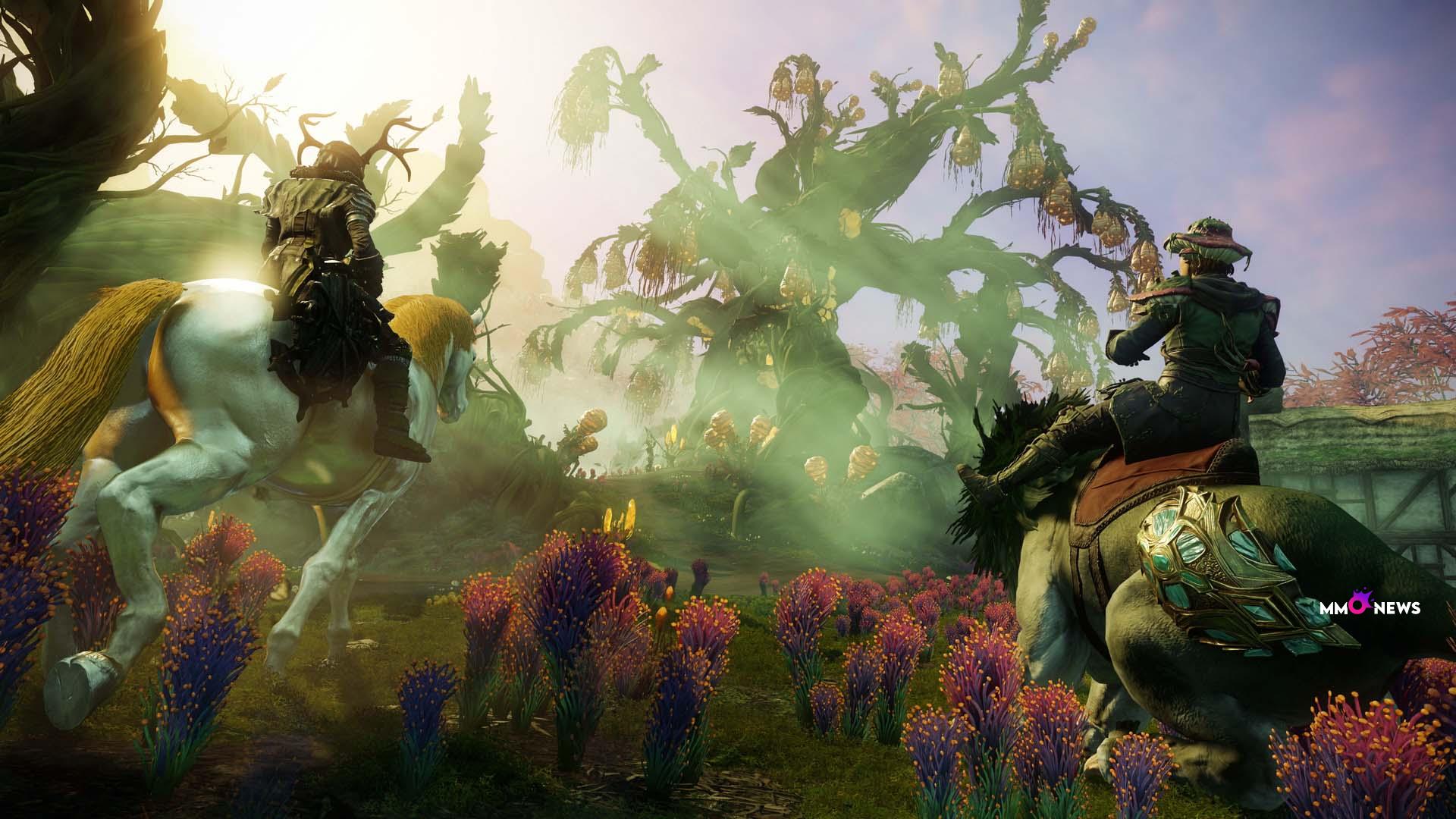 In a thrilling addition that has been eagerly awaited by the New World community, mounts will finally make their debut. As part of the expansion's storyline, players will unlock the art of "beast taming," granting them the ability to ride majestic creatures such as horses, dire wolves, and lions across the sprawling expanse of Aeternum.
Each mount boasts a unique appearance, customizable equipment, and a name of your choosing. Additionally, players can upgrade mounts by acquiring the new Riding Trade skill, which offers increased speed and valuable buffs.
New Gear Score Progression: A Higher Peak to Ascend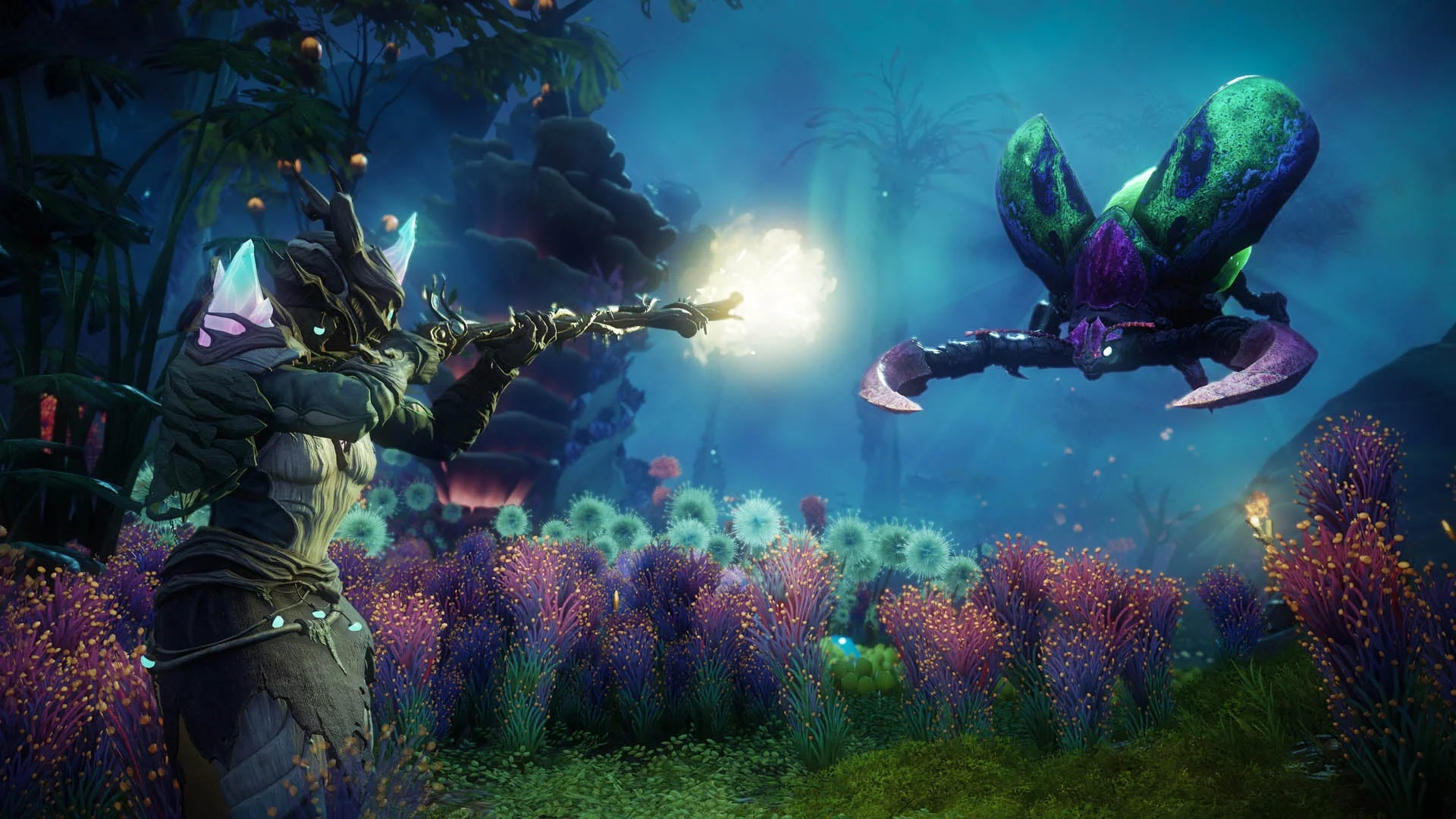 With the arrival of "Rise of the Angry Earth," the level cap and Gear Score will ascend to new heights:
New Level Cap: 65
New Gear Score Cap: 700
Trade Skill Level Cap: 250
As you explore these increased thresholds, you will also have the opportunity to unlock a brand-new Faction Quest. This, in turn, leads to the revelation of an enhanced Faction tier, promising superior gear and items as rewards.
New World Addon Release Date: New Gear Rarity
Prepare to be awed by the introduction of a new tier of rarity for weapons and armor—Artifacts. Completing a series of engaging quests will enable you to unlock all six unique perks associated with this extraordinary gear.
New Weapon: Flail
Say hello to the Flail, a versatile one-handed weapon that can be skillfully paired with an offhand shield. Combining the Flail with arcane magic yields enhanced attacks, offering the ability to bolster allies or debilitate adversaries. It's a weapon that promises thrilling new combat possibilities in the ever-evolving world of the New World.
New Expedition: The Savage Divide
Adventurers, sharpen your blades and prepare your spells, for a challenging new Expedition known as "The Savage Divide" awaits. Tailored for players at Level 62 and beyond, this dungeon beckons you to confront the formidable Beast Lords and reap the rewards that await those who dare to enter.
New World Addon Release Date: New Heartrune Ability
"'Unleash your inner beast to deal unarmed light and heavy attacks on enemies.'" With the addition of Primal Fury, players can tap into their primal instincts to unleash devastating unarmed attacks upon their foes. Master this newfound power and watch your enemies tremble in the face of your raw, untamed strength.
Free Content and Updates: Expanding the Adventure
While the paid expansion promises a plethora of thrilling content, New World enthusiasts will also delight in the array of free content and updates set to accompany the release of "Rise of the Angry Earth" on October 3, 2023.
New Main Story Quests Revamp: Edengrove and Great Cleave
Edengrove and Great Cleave, two prominent regions in the world of Aeternum, will undergo a comprehensive overhaul. Prepare to embark on revitalized main story quests that promise a fresh narrative perspective and a diverse range of quests, ensuring that these areas remain as captivating as ever.
New Season Pass: Unlocking Rewards Galore
With a new expansion comes a brand-new Season Pass. This exciting addition includes a new Activity Card, an assortment of challenges to conquer, and a bounty of seasonal rewards to claim. Brace yourself for an adventure filled with achievements and exclusive loot.
Ward, Bane, Resilience, and Expertise Removal
As the "Rise of the Angry Earth" expansion ushers in a new era for the New World, certain game mechanics will undergo significant changes. The following elements will be removed:
Creature Bane Perks
Creature Ward Perks
Resilience Perks
Expertise
These alterations are designed to enrich the gaming experience and recalibrate the balance within the world of Aeternum. Let's take a closer look at what these changes entail:
Banes: A Shift in Combat Dynamics
To make magic and ranged weapons more viable alternatives to melee options against multiple foes in PvE scenarios, developers are increasing the base damage of these weapons. This adjustment aims to diversify combat strategies and empower players to approach encounters with greater versatility.
Wards: Balancing AI and Encounters
Developers will adjust both the AI and encounter mechanics after removing the defensive and offensive benefits associated with Wards. These changes are essential to ensure that the absence of Wards does not disrupt the core gameplay experience.
Resilience: A New Defensive Mechanism
The introduction of crit reduction, based on equip load effects, will bolster player defenses across all weight classes. Light armor wearers will enjoy a 15% reduction, medium armor wearers 20%, and those clad in heavy armor 25%. Existing items with the Resilience perk will receive a "Health" perk instead, which increases the player's health by a percentage of their base health.
Expertise: Fine-Tuning Gear Score Drops
Expertise adjustments will affect the Gear Score drops from all creatures, aligning them more closely with the creature's level. This change is poised to create a more balanced and rewarding progression system.
New World Addon Release Date: Seasonal Events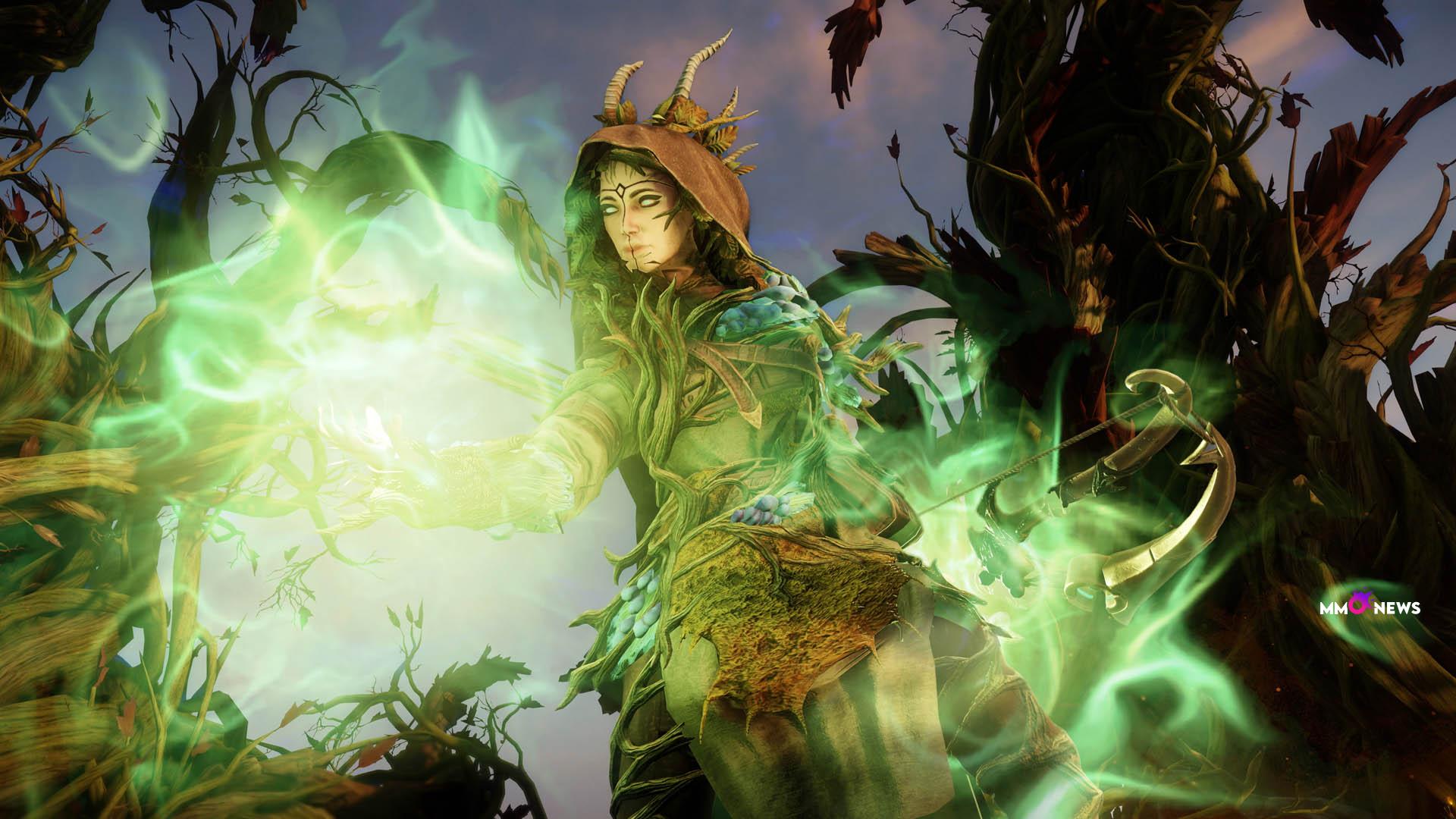 In the wake of the "Rise of the Angry Earth" expansion's release, several beloved seasonal events will make a triumphant return, available to all players free of charge. Prepare for the spine-tingling chills of "Nightveil Hallow" and the feathery festivities of "Turkey Terror."
Conclusion of New World Addon Release Date
The "Rise of the Angry Earth" launch is set to revolutionize the New World gaming experience. The new journey through Aeternum will be an exciting one. A bunch of new content and new game mechanics speak directly to that. October 3, 2023, is the moment that thousands of gamers are waiting for around the world. This is the day when gamers will discover new facets of the New World. Prepare your weapons, hone your skills, and be ready to conquer the Angry Earth!